Canberra United coach Rae Dower says teenager striker Nickoletta Flannery reminds her of Matildas attacker Ashleigh Sykes when she first joined the W-League club.
It's a huge rap on the 16-year-old, who was the surprise inclusion in the defending champion's 20-player roster for the 2015-16 season.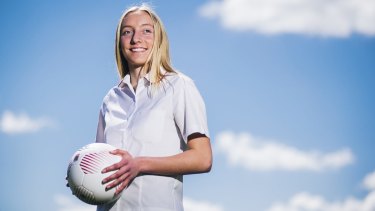 Flannery has progressed through the Capital Football National Training Centre program and impressed Dower during a tour to Canada earlier this year.
United has had plenty of success putting faith in talented youngsters.
Midfielders Julia de Angelis and Grace Maher were aged 17 and 15, respectively, in their debut seasons last year, while Sykes was only aged 16 in United's inaugural campaign in 2008.
Sykes has played all seven seasons for United since arriving at the club with twin sister, and United captain, Nicole Begg.
"Nicky is a very exciting and high potential player for the future," Dower said.
"A lot of older girls in the squad say there is a striking resemblance to a set of twins [Sykes and Begg] that arrived all those years ago in the first season.
"She can really strike a moving ball and has a bit of international exposure and was one of the standout players on the tour to Canada.
"She impressed a lot of opposition coaches and the Matildas coaching staff.
"Some game time might just be around the corner for her."
Sykes enjoyed a breakout season last year, winning United's player of the year award and earning a spot in the Matildas' squad for the World Cup.
Flannery said her "jaw dropped" when Dower told her she would be included in the W-League squad.
"I've been a little bit nervous, but I'm starting to overcome the nerves and become more comfortable," Flannery said.
"It's such a great privilege to be in the squad and training with all the girls.
"I was just so happy that all the hard work had paid off."
Dower said Belconnen United's Jessie Williams - who scored a goal and set up another in her team's 2-0 win against Canberra FC in the women's Premier League grand final - had gone close to making the squad.
"This is her third season I've seen her trial for Canberra and she put herself in the best position this year to make it," Dower said. "She was certainly not far away."
Canberra United's W-League season starts away to Brisbane Roar on October 18.
Lee Gaskin is a sports reporter at The Canberra Times.