The Junior Brave will represent the ACT in the grand final of the NSW Midget Hockey League in Sydney on Sunday. They will take on the Liverpool Saints on Sunday after a 3-2 win against Canterbury Eagles last Saturday at Sydney Ice Arena.
The team is coached by Andy Brunt, who has played ice hockey for the Australian national team and is father to team captain Jordon Brunt.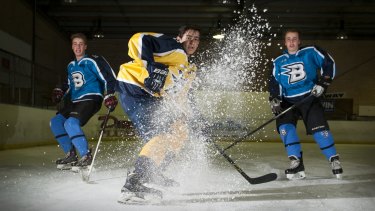 The coach praised the team's efforts this season after returning to the NSW competition for the first time in seven years.
"We've had to play in-house games between ourselves for the last six or seven seasons, mainly because we haven't had the numbers for a team," he said.
"About three years ago we targeted getting back into the NSW league and this year we were able to do it and show everyone what we can do. If we play to our full potential this weekend we can definitely get a result."
The team finished the regular season in third place, and also performed well in the individual statistics.
Jordon Brunt, Jayden Lewis and Corey Banks finished in the top 10 scorers for the season, while goalkeeper Alex Tetreault was ranked in the league's top three shot stoppers.
Brunt, Lewis and Tetreault also played one match each for the Brave in the Australian Ice Hockey League this season.
The grand final will take place at the Liverpool Catholic Club Sports Complex on Sunday at 4.45pm.