Awesome young science star in a super orbit of her own
Sylvia Todd's desk is not tidy. It's cluttered with small robots (including a solar-powered grasshopper), motors, wires, resistors, a soldering iron and an array of gadgets and tools.
A maker, tinkerer and online celebrity, Sylvia has attracted more than 1.5 million YouTube views of the show she produces and hosts, the web-based Sylvia's Super-Awesome Maker Show. She is sought after for speaking engagements, visits maker fairs and even addresses TEDx conferences.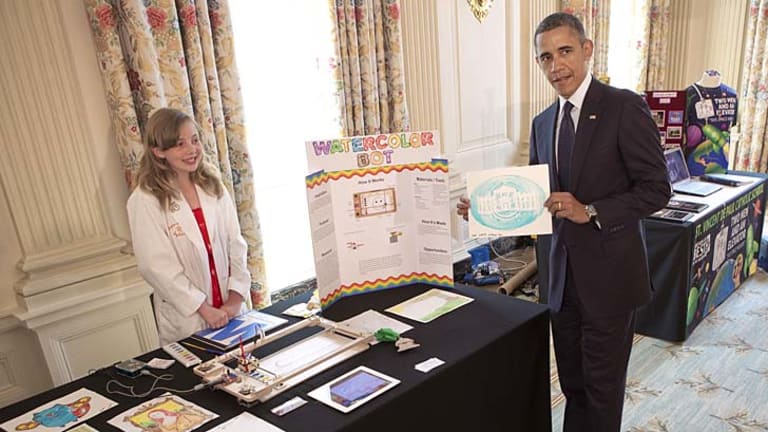 Last week she won a silver medal in an international robotics competition. And on Monday she took part in the White House Science Fair, where US President Barack Obama tested her latest project, a robot that paints. Not bad for an 11-year-old.
With her father, James Todd, filming her, Sylvia uses puppetry, theme music and her home as a laboratory to demonstrate how things work. She makes science fun, mostly by having fun herself.
An audience of fellow makers, especially science-minded parents and children looking for projects, follow her DIY episodes - 19 so far - on circuit boards, pavement chalk, rocket ships and her favourite, an LED shield. In one episode, Sylvia made dough that can conduct electricity. And her latest continuing project, though not yet a subject on her show, is the robot that can paint and which she showed off at the White House Science Fair, an invitation-only symposium for 100 students hosted by Mr Obama, who views and comments on the students' projects.
The President tried out her watercolour robot, doodling "Go STEM" - the acronym for the fields of science, technology, engineering and maths - on an iPad. The robot painted his doodle, which Sylvia said she would frame.
"Ever since I was really young I liked destroying stuff," Sylvia said. "I've always been interested in making and doing things hands-on."
The sort of tinkering Sylvia does is something all young people should be doing, educational consultant based in Los Angeles Gary Stager said. He invited Sylvia to work with participants at his teacher-training institute last summer. "She demonstrates what kids could do in school if we build upon their curiosity and wide-eyed enthusiasm," Dr Stager said, "instead of those endless tests.''
Sylvia says most of her classmates either don't know or don't care about her show. "They think it's boring," she said. "They think of me as Sylvia; they don't know the Super-Awesome Sylvia."
New York Times
Most Viewed in Technology
Morning & Afternoon Newsletter
Delivered Mon–Fri.