Borderlands release another triumph for Canberra games studio 2K
After two of their previous releases reportedly sold more than 18 million copies combined worldwide, a Braddon games studio has gone to the Moon for the setting of its latest video game Borderlands: The Pre-Sequel.
The Canberra company's new role-playing first-person shooter game, positioned time-wise between itsbest-selling Borderlands and Borderlands 2, was released on Thursday in collaboration with Texan video game company Gearbox Software.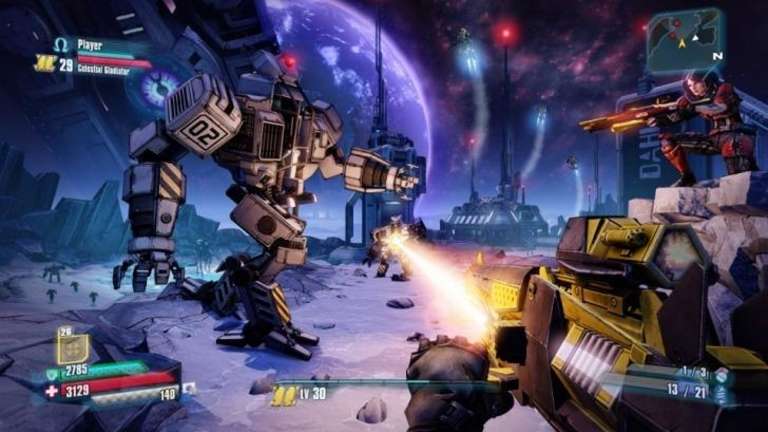 2K Australia Studio manager Tony Lawrence and creative director Jonathan Pelling, said the new game's setting on the Moon was a departure from its other games set on the fictional dystopian planet ofPandora.
The Canberra men said they were excited about the reception so far and amused by the global reactions to a very Australian game.
"It's particularly cool to see people's reaction when they hear Australian accents, it never gets old," Mr Lawrence said.
The creators have been making games in Canberra for more than a decade - starting off when Boston Games studio, Irrational Games, expanded to Australia and opened in Canberra in 2000.
They first hit the big time with their game BioShock in 2006 and then moved the studio under the 2K label in 2007 and since then have worked on a number of internationally successful games.
Mr Pelling said the new game was inspired by the Australian outback and they had "drawn inspiration from all over the map".
"So you'll meet characters like an outlaw called Red Belly who looks like Ned Kelly or a character called Captain Chef who decides to land on the Moon and take it over even though it's already inhabited and references to cricket," Mr Lawrence said.
Mr Lawrence said the gaming industry had changed in the past few years and there was a big divide between the very successful top end and very small game makers. "We've been really lucky to keep doing the things we do," Mr Lawrence said.
Both men said there was a strong gaming community in Canberra and they receive at least 10 emails a day from gamers wanting to visit them or work for them.
"The thing about Canberra is it is a very supportive community to work in and everyone wants us to succeed," Mr Lawrence said.
Mr Pelling said it was the quality of life that keeps him here. "There is no other place where you can be bushwalking without seeing another building in the morning and get to work by 9.30 and then be working on one of the biggest games in the world," Mr Pelling said.
Despite their international success, Mr Pelling and Mr Lawrence said they were still just gamers who love "sitting around on the couch with a controller in their hands".
Primrose covers breaking political news from The Australian Financial Review's Canberra newsroom.