Early birds capture latest gadget to see into the future
The first wearers of the Google Glass give it the thumbs up.
This week saw the largest congregation of Google Glass users, those early adopters and chic geeks who have signed up to be the lab rats in a crowdsourced experiment to determine the shape and direction of the next big era of personal computing: wearable technology.
Referred to as "Glass-holes", they converged on the Moscone Centre in San Francisco where Google was holding its developer conference.
The object of their interest is a titanium-framed device akin to spectacles without the conventional lens. Over the right eye is a cube of glass which acts as a screen and on the right arm, there is a thicker mass of hardened plastic which houses almost all the components you would find inside a smartphone.
With this the wearer can do almost everything that a smartphone can do, all largely hands free. A combination of voice recognition, head movements and finger strokes allow the user to handle emails, read news headlines, get directions, make and receive phone calls and take and share photos and videos.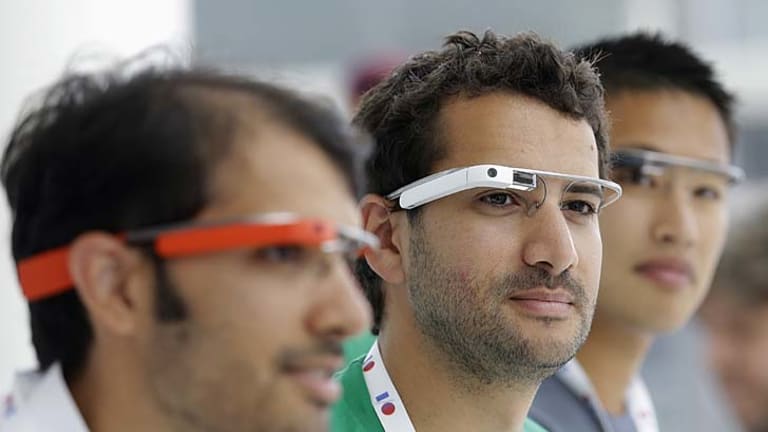 And, as this is just the prototype, there's bound to be more features before the device hits the mass market, probably next year, along with smart watches, smart pendants and personal activity trackers which fall into this emerging product category.
Wearable technology has been made possible by advances in miniaturisation of electronics, longer battery life and voice and gesture recognition technology which have only recently emerged.
"We're now at this moment where it's possible to imagine technologies on our bodies as extending us in ways that isn't just about physicality but also our sociality and our cognitive capacity," said Genevieve Bell, chip-maker Intel's resident, Australian-born anthropologist.
Many of the Glass wearers at the Google event were software developers who paid $US1500 for the privilege of being first.
John Scheible, a 22-year-old computer science student from the University of Michigan, is one of the developers who signed up to test Google Glass. Although he had only had his unit for 24 hours before we met, he had already given it the "really cool" tick of approval.
He was also aware of the issues swirling around the privacy implications of this type of technology but dismissed it as a concern that would pass as usage became more commonplace.
"I think people are overblowing this a little," he said. "There are far sneakier ways to bring a camera if you want to be a creepy person, which is wrong and weird but at least with Google Glass people know it has a camera."
Australia's federal privacy commission, is one of several government and non-government entities to voice their concerns and ask Google for more details about how this new technology will work.
But while Google has become the public face of wearable technology, it is not the only company with devices which are able to push the privacy bar down even lower.
Last month, the Australian branch of the discount supermarket chain Aldi was selling a $29.99 pen equipped with a high fidelity microphone and camera able to take snaps and shoot several hours of high definition video.
The push to extend personal technology to have it not just with us but on us persistently connected and assisting our day-to-day activities is already an unstoppable reality.
Stephen Hutcheon is the Digital Editor for The Sydney Morning Herald. He writes on technology issues.
Most Viewed in Technology
Morning & Afternoon Newsletter
Delivered Mon–Fri.