End of an era for our technology whizz
After almost 15 years, 747 columns, and about one million words worth of questions and answers, this will be the final Silicon Kid column.
When I started writing this column in 1998 (when still at school in Year 9) computers and the internet were much simpler – I recall answering questions about DOS 6.1.1, Windows 3.1, and Windows 95, followed shortly after by Windows 98 (which only came on to the market a few months before the column starting on September 1, 1998).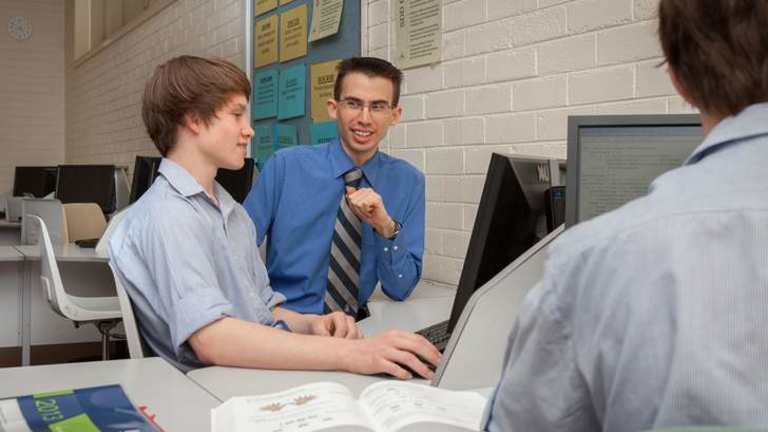 These reasonably simple operating systems lent themselves quite well towards a computer question-and-answer style newspaper column, so during the second half of 1998 I sent an email to the editor of the Techno section of The Canberra Times offering my services (and intentionally omitting to mention my age).
After some emails back and forth, together with some trial questions from staff at The Canberra Times office, they decided to run with the column, starting off as a fortnightly fixture in Techno (which was a large lift-out section of the paper at that time).
The column got off to a bit of a slow start, but after about six months it gained traction and started to attract large numbers of questions, and this popularity grew even further over the 15 years – to give you an idea, right now my inbox has more than 100 emails with questions awaiting answers, which date back to March 2010.
A lot of people ask whether I answer all the questions, and up to a few years ago the answer was yes – I usually tried to answer the questions in a reasonably chronological order. Unfortunately, over time the volume of questions in the queue always grew, rather than decreased, so to a degree in the later years I needed to become a bit more selective and pick questions which applied to the largest number of potential readers.
This is also a good opportunity to answer some of the more common questions people ask me which relate to the column itself, rather than computers.
Many people ask whether I receive repeat questions. When the column first began this was quite common, seemingly because computers were much simpler, so frequently people ran into the same issues. However, in recent times this has changed due to the unique configuration of most users' computers (which doesn't lend itself towards the same problems) together with the launch of the Silicon Kid website which contains a searchable database of all questions and answers.
Another question I get asked is if I receive any strange or weird questions. You would think that after 15 years of writing this column, I would have some good stories to tell, but the truth is I haven't received any such questions. Pretty much all the question which have been sent to me are genuine technical computer questions.
Probably the biggest question you may ask is that since the column has been going successfully for 15 years, why stop now?
While the questions I was being asked when the column first began were reasonably straight-forward and could be answered fairly clearly in a question-answer format, it was inevitable that over time computers were going to get substantially more complex.
Examples most recently are operating systems such as Windows 7 and Windows 8, which are far more complex than the earlier versions such as Windows 95 and 98. This complexity is not necessarily a bad thing, as usually when technology advances and offers more comprehensive features, an increase in complexity is a side-effect of this advancement.
However, this has also made the job of answering technical questions quite difficult as it's often no longer the case of changing a setting to get things working, but instead requires a large amount of research and troubleshooting to determine the root causes and suggest a solution, not to mention the variances in different configurations which computers are running.
Additionally, the advent of very good internet search engines (combined with huge amounts of information available on the internet about most kinds of computer problems) has somewhat made advice columns a bit out-dated since much of the information is available online.
So, now that the column is finishing you may be wondering where you can go to get advice about how to fix particular problems on your computer. In short, the internet. This also provides a good segue into discussing the methodology which I use to provide advice on the questions readers send to the column.
A lot of people asked whether I was the person answering the questions or whether I was a front for a group of people working behind the scenes to provide the answers. I can assure you I was the person writing all the answers to the questions, but it would be unrealistic to expect that I know all those answers myself.
The key to providing the advice in the column was doing comprehensive research on each question using the internet. In most cases, the problem which you experience has already been experienced by many other people. Therefore, a search of Google (for the error message, a brief description of the problem or such like) is likely to yield results from various discussion forums, blogs and websites providing advice on how to resolve the issue. You will be amazed about what you can learn (and fix) by searching the internet.
Regarding what's next, for the past 15 years I have been providing advice to the local Canberra community on how to fix their computer problems. Now, somewhat going full-circle, I am now a full-time teacher, back at school teaching the next generation of tech experts how to program and engineer computer software.
Before finishing, I would like to say a big thank you to The Canberra Times for providing me with the opportunity to write this column. In particular, a special thanks to Simon Grose (the editor of Techno back in 1998) for his support and taking the risk to employ a school student all those years ago.
Additionally, I would also like to extend a thank you to all my editors and sub-editors across the years, particularly the editors who have inherited the Techno supplement: Bruce Brammall, Jeff Centenera and Liz Bellamy.
Thanks also to those organisations who have supported the column, including the ACT PC Users Group (for providing past hosting of the Silicon Kid website, along with inviting me to speak at their meetings) and the Australian Computer Society and ACT Government (for presenting me with the 2008 ACT Pearcey Award in recognition of contributions towards IT in the ACT).
Of course, I would also like to say an enormous thank you to all my readers. It seems that across the years the column has attracted quite a following, and without you submitting your questions this column would not have been possible or nearly as interesting for me to write. Even though the column will no longer be in the newspaper, you can still access an archive of all the questions and answers at http://www.siliconkid.com.au
Given that I have mentioned quite a bit about the history and foundations of the column, it seems fitting to sign-off with a reprint the first column which was published on September 1, 1998, (note, this is quite old – so some of the advice may change if you asked me again in 2013).
1. How reliable is the ACT power supply and what is the best product to guard against power surges to protect your PC?
It is normally stable but you should not use any electronic equipment during a storm. With all expensive electronic equipment I recommend that you have a surge buster (or a more expensive option is a mains filter which filters and smooths out the power supply). These are available at most computer and electronic stores.
2. Why do you need to shut down Windows 95 and 98 on the task bar?
This shuts down all the system files and the shell safely. The shell is the Windows graphical interface, which you use your mouse to navigate through. This is not the "guts" of the computer though, it is just a friendly interface that is easy to navigate, rather than a prompt that requires you to enter complex commands, therefore it is named a shell. Shutting down Windows from the task bar will therefore decrease the risk of damaging system files on the computer.
3. Why is it difficult to load and escape DOS programs on Windows 95 and 98?
Your program may not be designed to run under Windows 95 and 98. Some programs require exclusive use of your computer's resources and while Windows is running it does not have exclusive use. To get around this, go to Start Menu > Shutdown and select "Restart in MS-DOS mode". Then you can run your program from the MS-DOS prompt (to restart Windows 95/98 just type "exit" and the prompt).
4. I can't work out how to delete out-dated documents from Word. How do I do it?
Open the Windows Explorer, then click on the drive that you want to search for the documents. Click on the tools menu. Find "Files or folders". When the Find dialogue box is up in the named box put "*.doc" (without the quotation marks) and then click on the date tab. Click the "Find all files" radio button and in the drop down box next to it you can choose what you want to search for (Modified, Created or Last accessed). Click the "between" radio button and enter the date range you want to search for. Then click the "Find Now" button. To delete the files just highlight them (click on them once) and press "Delete" or drag them to the Recycle Bin.
Most Viewed in Technology