Questacon founder Dr Mike Gore appointed an officer in the Order of Australia
The hundreds of thousands of people who visit Questacon each year have Professor Mike Gore to thank for bringing the much-loved institution to life.
But the founding director is most proud of his initiative to take the science to the people in the furthest reaches of Australia with the Shell Questacon Science Circus – the largest of its kind worldwide.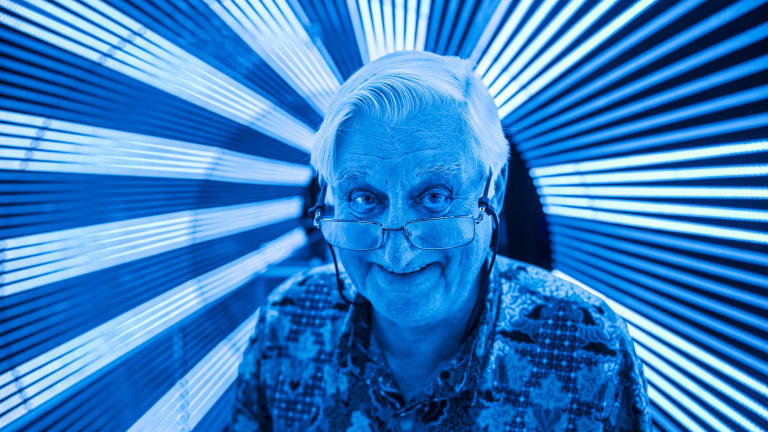 For his distinguished service to science though public outreach and as a mentor and role model, Dr Gore was appointed an officer in the order of Australia.
The idea for Questacon came from Dr Gore's 1976 visit to the "Mecca" of interactive science centres, the Exploratorium in San Francisco.
"Like many other people around the world I stopped and said 'wow' and came back to Australia and said, 'We've got to have one of those'," he said.
"After doing lots of walking and talking and persuading people I decided I would try and build one."
From its humble beginnings at Ainslie Public School in 1980, Questacon moved to its current home in 1988.
"You could say it was an instant hit," he said.
Dr Gore began his scientific career with a PhD in electrical engineering at Leeds University in the 1950s.
While teaching physics at ANU for 25 years, he realised his passion for teaching and explaining things to everybody.
Dr Gore said critics who believed people walked away from science centres like Questacon without learning anything misunderstood their purpose.
"Science centres are not there to teach, schools and universities are there to teach, science centres are there to inspire and make people think, change people's perceptions," he said.
"To make people think, 'Oh here is an exciting and interesting subject, I never realised that was connected to that'."
The secret to Questacon's success is allowing people to do things for themselves with simple experiments, Dr Gore said.
The approach has worked at similar centres Dr Gore has worked on all over the world including South Africa and Asia.
Dr Gore said the push to attract more young people to science was not a new thing, but it was a long hard grind to change perceptions.
"The problem is lots of students think money can be made in other ways and science is too hard and that's a pity because it's not true," he said.
He is most proud of creating Questacon's outreach programs including the science circus which takes Questacon exhibits into country towns.
"It is the biggest travelling science exhibition in the world," he said.
"No other country has got a science circus like Questacon … and I'm terribly proud of that because it reaches out to Australians even in the most remote parts of the country."
Carefully selected science graduates travel with the circus to work with school teachers in the regional areas.
"We've got a lot of teachers in Australia who are teaching science but we've found they haven't had any science training which is a problem," Dr Gore said.
"It's vitally important that school teachers are given as much help as possible in doing what they have to do in science."
Dr Gore continues to try to reach the masses through his work at the ANU's Centre for the Public Awareness of Science, he co-founded in 1995, translating complex science into language anyone can understand.
Clare Colley is Head of Audience Engagement at The Australian Financial Review.