Reindeer to arrive with workhorse
Put a PC under the tree without the cost but with all the bells.
WITH five days to Christmas, there is just enough time to provide Santa with the specifications for that new workhorse PC Bleeding Edge readers would love to find under the tree.
The object of the workhorse PC exercise is to have a company such as Scorptec or Centrecom or PC Case Gear or MSY build - or build yourself - a system to handle the routine work of a desktop computer fast and reliably for substantially less than the comparable offerings of branded PCs.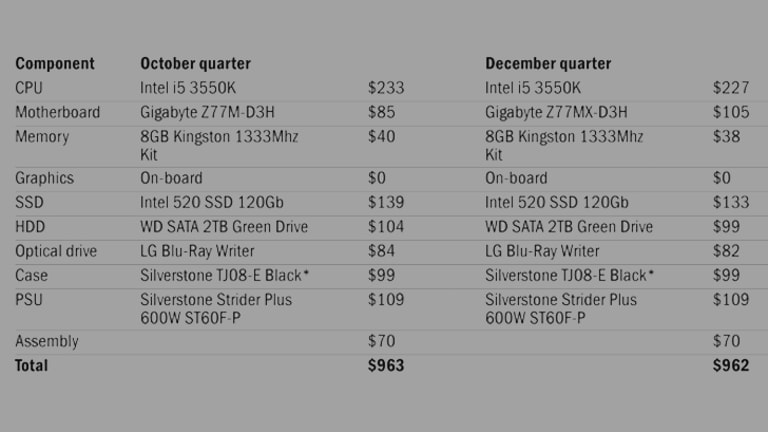 Generally, we also specify some of the upgrades that would equip the workhorse to handle more demanding tasks, such as regular video editing or gaming.
Branded-PC manufacturers do offer support in the event that a component fails, but the higher-quality parts we specify rarely miss a beat. Many years of feedback from satisfied readers supports that contention.
This quarter we have been thinking about motherboards, which, more than any component with the possible exception of the CPU, will dictate the sheer utility of a PC. For many years, we have specified Gigabyte motherboards, and we decided it was time to check that company's performance against other brands.
High-quality PC building has been split into two motherboard camps: Gigabyte versus Asus. In 2002, however, the Asus parent founded ASRock to boost its share of the lower-price market without cannibalising the upmarket brand, and it has been gaining a reputation for low-cost reliability.
We looked at the ASRock Z77 Pro4-M, the Asus P8Z77-M, Asus P8Z77-M Pro, Gigabyte GA-Z77MX-D3H and Gigabyte GA-Z77MX-D3H-TH. The prices ranged from $99 to $169.
At the cheap end, we liked the look of the ASRock board and particularly that it offered four SATA 3 ports for faster hard-drive operations. On the other hand, relatively few users will need any more than two hard drives.
At the other extreme, the GA-Z77MX-D3H-TH has two of the new Thunderbolt ports, which support up to 12 fast storage devices and three digital displays. We opted for the middle path, largely because there are few Thunderbolt devices on the market.
There is only $4 difference between the Gigabyte GA-Z77MX-D3H and the Asus P8Z77-M. Both offer the same number of USB 3 and SATA 3 ports, with some minor differences in the I/O ports on the back and a variety of competitive features.
We have decided again, however, to go with the Gigabyte board at $105 ($20 more than last quarter), largely because we have had more problems with Asus quality control, warranty and customer support issues over the years. We will, however, be keeping a close eye on ASRock, particularly if this price escalation continues.
The Intel i5 3550K CPU is slightly cheaper this quarter at $227, and it is perfectly adequate for anything but the most demanding applications.
Our 8MB of Kingston RAM costs $38. If we were overclocking, we might choose one of Kingston's higher-end products with heat-spreaders and other features, but Kingston's standard memory has been a good performer.
The 120GB Intel 520 SSD, which we recommend as a primary drive, is $133. We were tempted to install a Samsung 830 SSD, but its write speed isn't as fast as Intel's, and Samsung offers only a three-year warranty, compared with Intel's five years. We think that's worth the additional $46 for the Intel drive, but if you are on a budget, you could do worse than Samsung. The Western Digital 2TB Green drive is $5 cheaper at $99, and the LG Blu-Ray Writer, which is worth the premium on a DVD drive, costs $99.
We still like the small footprint and performance of the Silverstone Strider Plus 600W ST60F-P power supply (PSU), which fits the limited space inside the black Silverstone TJ08-E case. The combination is quiet and relatively diminutive. For something a little larger and heavier, the Fractal Design Define Mini allows space for more hard drives. You could team that with the Corsair HX-650w Gold PSU.
We specify $70 to build our workhorse PC. That has been the standard price for many years. We noticed recently that one popular retailer quotes customers an additional $15 to install Windows on the new PC, and another $50 for ''standard system checking''.
At a stretch we could live with the extra $15, but charging $50 to check the components they've just sold a customer seems unacceptable. We've removed them from our list of recommended installers. Be sure to check the quote.
Most Viewed in Technology
Morning & Afternoon Newsletter
Delivered Mon–Fri.