The Wii U controller's tablet-like screen is perfect for karaoke games. Rather than sing with their back turned to the audience, the performer can belt out a tune reading lyrics from the portable display in an experience much closer to a karaoke bar.
How strange then that only one mode in Sing Party actually lets players use the small screen for displaying song lyrics, with the rest forcing players to read from the television.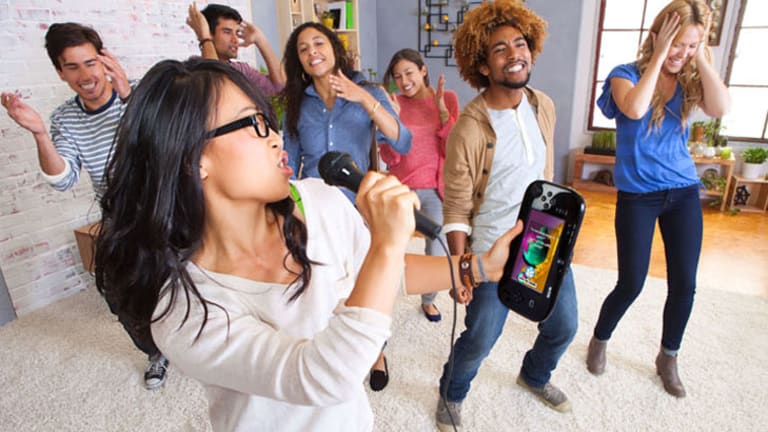 It's also strange that the original film clips weren't utilised instead of the daggy sequences that serve as replacements, and that Nintendo released the game without the capability of purchasing additional songs from an online store.
Fortunately, Sing Party does include some other smart uses for the portable screen, including the ability to scroll through the songs and set up a playlist while somebody else is crooning. You can also alter the levels of the main vocal and the backing track at any time.
In this mode, players can earn points for pitch, vocal strength and (the most dubious element) flair.
There's little incentive for chasing high scores though, as there's only one difficulty level, the awards are pointless and all songs are unlocked from the start.
The collection of 50 songs are original versions rather than dodgy covers and spans 50 years of pop music - from the 60s to today's chart hits. It's an eclectic selection that means you're unlikely you'll want to sing them all, but in a party environment there should be something for everyone.
The package includes just one USB microphone, but is compatible with mics from other popular music games like Rock Band.
In Party mode, friends can grab a spare Wii Remote and try to tap buttons in time with the music. Unfortunately, the split-second delay between a button press and the sound means that the din created is usually unwelcome.
The game also tries to drag spectators into the action in Party mode by prompting friends to clap, dance or sing at certain points during the song. It feels too prescriptive and would certainly need the right atmosphere (and the right amount of alcohol) to work. Unfortunately the animations are more likely to trigger sniggers than excitement.
The Team mode is more successful at encouraging group participation, with teams taking it in turns to tackle challenges such as relay, which has players constantly passing the microphone from one singer to the next.
Sing Party isn't totally off-key, but it does represent a missed opportunity and is difficult to recommend.
What have you been playing lately?
- Jason Hill
Most Viewed in Technology
Morning & Afternoon Newsletter
Delivered Mon–Fri.