Slip into the music stream
Telstra-MOG will put 14 million tracks at your disposal for a monthly fee.
BLEEDING Edge suspects Australia's commercial radio executives must have developed a severe case of transmitter interference since Telstra announced last week it had formed an exclusive partnership with US-based music subscription service MOG.
The combination is likely to lure music lovers from a broadcast medium that in Australia is close to 90 years old (2SB Sydney began transmissions in 1923) to a more personal, yet at the same time social, service that allows listeners to choose the songs they listen to and share their tastes.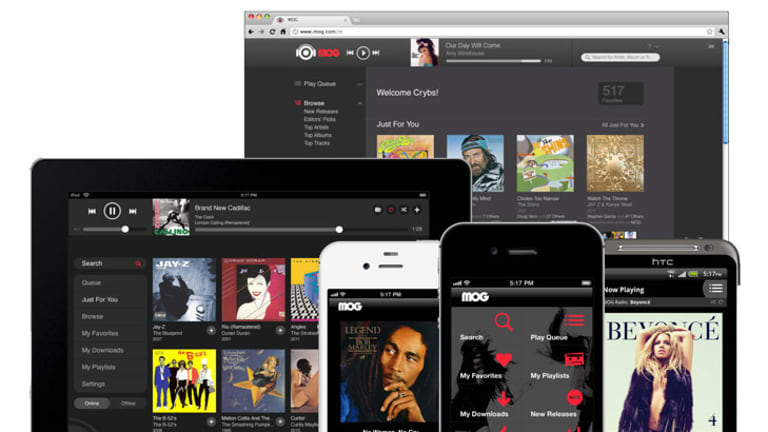 The deal means that when the service launches ''before the end of the year'', Telstra customers will be able to stream all the music they want over mobile phones, tablets, Windows and Macintosh PCs, net-connected TV sets and hi-fi systems such as the Sonos wireless and Apple AirPlay devices, free of data costs (other network users will be able to join up but must pay for the data) for a monthly charge of ''less than the price of a CD''.
Exactly how much ''less'' Telstra hasn't worked out yet but most CDs these days cost from $8 to $12, with new releases ($17 to $19) representing only a small percentage of the market.
Despite its obvious advantages - network reach, stability and market share - it's doubtful Telstra will be able to charge too much more than its competitors.
Rdio, for instance, costs $8.90 a month for unlimited high-quality (320 kbps) web streaming and $12.90 for web-plus-mobile streaming, integration with Sonos and Roku and wireless syncing for offline listening. It offers a seven-day free trial, while JB Hi-Fi NOW's two plans, priced at $6.70 and $8.20, come with 30-day free trials.
There will be even more pressure on pricing when Spotify, the market leader, comes on-stream in the next few weeks, after postponing its launch three times as it bed down its network and its licensing.
MOG-Telstra will offer a 14-day free trial and at least two levels of service, presumably one solely for stationary devices and another that includes the mobile service.
In the US, in addition to a no-cost FreePlay advertising-supported service, the basic plan costs $5 a month and the mobile Primo version $10. Subscribers can access whatever they want from a library of 14 million tracks delivered at 320 kbps.
Here at Bleeding Edge we have been streaming Spotify, Rdio and MOG, mostly through our Sonos multiroom systems, although we do have Rdio on the iPhone. We like Rdio but have found its licence arrangements in Australia deny us access to some of our favourite artists and tracks. While Spotify has the largest library of any service - 15 million tracks - we haven't noticed much difference between its catalogue and MOG's.
Spotify has worked hard on the sharing of playlists but MOG has possibly the fledgling industry's simplest drag-and-drop playlist tool for organising music.
MOG also has a suite of tools to help subscribers discover new music, which is one of the most powerful features of renting one's music by the month. MOG does it particularly well through features such as personalised recommendations based on a subscriber's listening habits.
In the meantime, the local player in the field, JB Hi-Fi NOW, has almost tripled its catalogue to 8 million tracks.
Its iPhone app has not yet been officially launched but it is available and it works. The Android version will be released soon. It will also become available on Sonos about the same time.
JB Hi-Fi's experience suggests 90 per cent to 95 per cent of users choose the mobile version and they want to be able to download and store tracks over wi-fi so the music doesn't stop when the phone is offline or data limits are under pressure.
According to JB Hi-Fi marketing director Scott Browning, the biggest challenge in Australia is that people simply don't understand the subscription medium.
And while a trend is developing overseas for drivers to plug in their iPhones and turn off the car radio, Browning says work is needed to make car connections less problematic for the user.
Paradoxically, Browning believes the launch of Spotify and Telstra-MOG will improve NOW's sales, because its rivals are likely to have big budgets to promote the concept.
Email cwright@theage.com.au
Most Viewed in Technology
Morning & Afternoon Newsletter
Delivered Mon–Fri.