Tablets to keep Linfox fleet rolling
Linfox is set to roll out a new mobile machine-to-machine (M2M) solution for its fleet of vehicles across the Asia-Pacific region.
Linfox trucks and road trains will have up to six proprietary in-cabin communications systems - potentially costing up to $12,000 in capital expenditure per vehicle - replaced by one communications hub. Drivers will use a ruggedised Motorola tablet or a smartphone running on Google's Android operating system to get access to applications.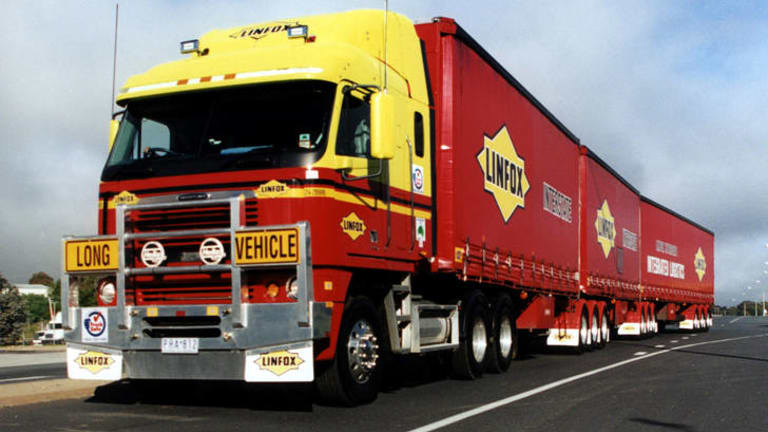 ''We have just finished a trial on a device which gives us a communications hub that allows us to have satellite telephony, mobile telephone network and industrialised Wi-Fi in one,'' Linfox's president of supply chain solutions and chief information office, John Ansley, said. ''On top of that layer, we put some intelligence about some business rules.''
These rules determine what vehicle information is automatically sent via M2M technology to the control centre depending on the vehicle's location and connectivity.
''If you talk about our triple road trains that carry a lot of fuel, that costs us around $1 million to put them on the road,'' Mr Ansley said. ''You know you need a certain number of hours out of every day for that vehicle to make money. So when you are pulling information out of the management system and getting diagnostics that can indicate something is going to happen over the next two, three or four days and you can do preventative maintenance based on that - that is absolute gold. Your asset management improves out of site.''
Linfox has used telematic systems, such as GPS, for tracking and managing its fleet of 5000 vehicles and supplies in its 250 warehouses for some time. The proposed solution is expected to cost between $300 and $5000 depending on vehicle and location. It will gradually replace older systems as trucks are refreshed over the next three to four years.
''We've been able to build applications that are specific to our drivers' needs and also our customers' needs. So with customer-specific apps, we can have information on there like documents that show, for instance, induction at a site they need to get to or the detailed road map of a mine site,'' Mr Ansley said.
''The tablets sit in a cradle and once there, the functions are limited to push functions. The driver can't actually operate it if the truck is moving.''
The tablets, however, can be used as a front end for the satellite phones, mobile phones, and entertainment system. They also have apps for signing documents such as receipt of delivery, along with still and video capabilities for capturing things such as damage to trucks for insurance and repair purposes. Photos are tagged with GPS co-ordinates and can be tagged with commentary.
Telstra director of M2M and partners, Mike Cihra, said a handful of industries such as logistics, transport, utilities and security were already big users of M2M solutions. Other industries such as agriculture, automotive and hospitality were starting to explore their options and adopt M2M.
Telstra's M2M revenue indicates burgeoning interest in the technology. It grew by 15.9 per cent year-on-year to $80 million in the year to June 2012. It was one of the telco's fastest growing segments but dwarfed by mobile broadband which is more than 10 times larger at over $1 billion and growing at 10.8 per cent annually.
At end of June 2012, Telstra had 809,000 M2M mobile services in operation - adding more than 10,000 services a month for the past 12 months.
"M2M technologies are set to power a range of new intelligent applications in the future, these include metering and monitoring, surveillance, automotive and digital signage scenarios," said Telsyte research director, Foad Fadaghi.
"The main barrier to adoption has been standardised platforms and pricing, however both are improving substantially, allowing many more business to start utilising such technology."
Most Viewed in Technology
Morning & Afternoon Newsletter
Delivered Mon–Fri.