The ACT Claycourt International has marked a successful comeback for a former Australian tennis prodigy who was once dubbed the right-handed Rafael Nadal.
Jason Kubler was the boys world No. 1 and tipped to press on with Nick Kygrios and Bernard Tomic to the pinnacle of world tennis, but injury has plagued his career for almost a decade.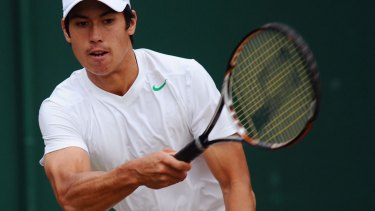 Kubler, 23, bounced out in the first round on Canberra's red dirt last week, but on Tuesday secured his first tournament victory in more than a year.
Recurring knee problems threatened to derail Kubler's career but by playing mostly on clay to ease the pressure on his knees the Queenslander reached world No. 136 in 2014, before injury struck again.
"I first got injured when I was 14, I went out for a wide forehand and I did my left and right meniscus at the same time, I heard them both crack," Kubler said.
"I've had five surgeries on my left and one on my right. The past five months have been really tough and I'm still not at 100 per cent.
"I'm really happy to be back playing again but at some point I've got to ask myself do I really want another knee operation.
"If I get another injury I'll seriously consider giving it away. I don't want to be hobbling around when I'm older and not be able to lead a normal life after tennis."
Kubler said the hardest part of his journey over the past eight years has not been the rehab, but the isolation.
"It's tough playing on clay the whole time and not having anyone around because you're playing places when everyone else is playing somewhere else," Kubler said.
"I can play on hardcourt and grass, it's just more risk, but I don't know how much longer I'll be playing and I just want to enjoy it so if there is a bunch of Aussies going to a hardcourt tournament this year then year I'll go."
As for the Nadal reference, the comparison now makes Kubler laugh.
"When I'm with my mates I get paid out about that a lot, but I think at the time if you said who I played like the most it'd probably be Rafa," Kubler said.
"I would obviously say someone different now, but back then he was coming up through the ranks and we both used our movement well and had big foreheads."
Eamonn Tiernan is a sports reporter with The Canberra Times