Narrabundah Ballpark already has the best playing surface in Australia, now it will undergo a $4.5 million facelift to help it attract world-class baseball to The Fort.
The ACT government will announce the funding for the home of the Canberra Cavalry on Saturday as part of the upcoming budget.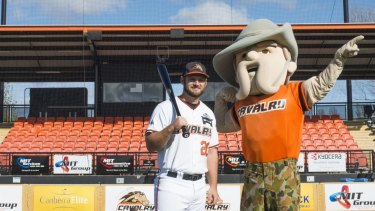 While the design hasn't been finalised as yet, it's likely the existing main grandstand behind home plate will remain where it is, but get extended out either side – which would replace two temporary blocks of seats.
Capacity will be increased, with plans to put in more seats in front of the grandstand – some of which will be below ground level, similar to some Major League stadiums in the US, to provide a "unique" viewing experience.
Amenities such as change rooms, toilets and food outlets will be improved, with community consultation ongoing.
Work will probably begin after the 2016-17 ABL season and will be completed in time for the following summer.
Australian Baseball League facility development manager Daniel Amodio said they wanted to make one of the best ballparks in Australia even better.
"This is easily the most fun place to come watch a game [in Australia] ... [but] we want to create a little bit more space to increase the capacity a bit by moving the fences in," Amodio told Fairfax Media on Friday.
"The goal would be to create something that you'd see in the American ballparks where it's a little bit closer to the action ... and you're up on top of the action looking down, it makes you feel like you're more in the game.
"We already have the best playing surface in the country, which is a huge advantage in terms of national and international events."
While Narrabundah Ballpark, affectionately known as The Fort, is the home of the Cavalry, ACT Sports Minister Yvette Berry hoped the redevelopment would attract more top-level baseball to Canberra.
World Baseball Classic games involving the Australian national team, the Southern Thunder, could potentially be brought to the ACT, along with the ABL All Star game, which has been held in Melbourne the last four years.
"We already have high quality [baseball] with the Cavalry, but we'd like to build on that and get some more really good quality games out here that people can come and watch, but maintain the intimacy with the crowd that comes out here," Berry said.
"I think that's what makes this so successful, this whole arena here, is that it's really got a close-knit community intimate feel."
David Polkinghorne covers the Canberra Raiders, local rugby league, Canberra Cavalry, racing and cycling, along with every other sport, for The Canberra Times.