Mulrooney medal winner James Bennett said his love for Belconnen Magpies and the passionate rivalries within AFL Canberra means he has no interest in playing for the Canberra Demons in the North East Australian Football League.
Bennett had a three-year stint with North Adelaide Roosters in the SANFL but was raised in Canberra and played his junior football with the Magpies.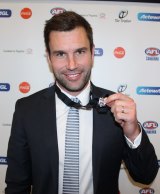 He said the newly-formed Demons are missing the strong cultural foundations that the local competition has forged over many decades.
"I enjoy the rivalry in Canberra footy and I love playing Ainslie and Queanbeyan on the weekends, that's the thing that brings out the passion in footy for me," Bennett said.
"Playing in the NEAFL you lose a lot of those aspects of what makes footy so fun and so enjoyable."
The midfielder won the Mulrooney medal in 2013 when the medal was associated with the NEAFL. That season he was also named captain of the league's team of the year.
Despite dominating that league, Bennett said he would prefer to focus on helping his local club develop.
"It's [NEAFL] not something that has really captured me. I would like to see Belconnen do well and that's where my efforts are and helping local kids in the Belconnen area to develop and become good players."
Bennett said the Magpies' two-point loss to Queanbeyan Tigers in the preliminary final on Saturday is an example of the passion that exists for football in the capital.
"I hope we can maintain and make sure that, like our game on the weekend, they're close games of footy, the crowds involved, people are really passionate and giving everything for their clubs.
"That's what I think footy is all about."
Canberra clubs gradually leaving the NEAFL to compete in the local league have created a significant gap between the top teams and the rest, but Bennett said a focus on junior football will equalise the competition.
"There's been change every year that the NEAFL has been around and it has had flow on effects for AFL Canberra," he said.
"We really need to continue to focus on junior clubs and make sure that every teams are playing local juniors and not going out there and recruiting players from all over the country.
"It's important to get some quality players into the competition but the base of the competition needs to be local players and coming from each local club."
AFL CANBERRA'S MULROONEY MEDAL VOTES
James Bennett (Belconnen) – 20 votes
Sean Ellis (Tuggeranong) – 19 votes
Simon Curtis (Ainslie) – 12 votes
Beau Walker (Belconnen) – 12 votes
Aaron Wiles (Ainslie) – 12 votes
Kade Klemke (Queanbeyan) – 11 votes
Nick Salter (Ainslie) – 10 votes
Andrew Swan (Queanbeyan)– 10 votes
Hayden Armstrong (Ainslie) – 9 votes
James is a reporter for The Canberra Times and Chronicle