The Tutt family has always had pace, now it seems that's been inherited by their dogs as well.
Alan Tutt bred Rare Pearl in his Hawker backyard, with mother La Pearl giving birth to him in their family home.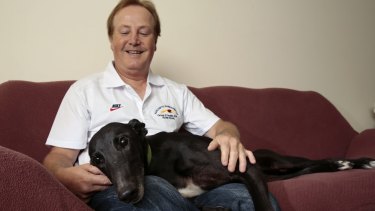 Now he's made the final of the group 1 Golden Easter Egg final, the third richest greyhound race in the world, at Wentworth Park on Saturday.
With the winner receiving $250,000, Tutt likened the race to greyhound racing's equivalent to the Melbourne Cup.
The uncle of Carlton footballer Jason Tutt, he first got into greyhounds more than 30 years ago when he was 17.
He was also a handy footballer, playing for South Adelaide in the SANFL and spending some time with AFL club St Kilda, although he didn't play a game.
Tutt made the ACT team of the century and said pace was something the whole family seemed to have.
While Rare Pearl might be a $14 chance in the Golden Easter Egg, Tutt was confident he was one of the fastest finishers in the race.
He's being trained by Steven White in Melbourne but it took some convincing to get one of Australia's top trainers to accept his dog.
It didn't take Rare Pearl long to convince White of his ability, which is why he entered him in the Golden Easter Egg.
"It's been an unbelievable journey. To get to this race, it's like getting into the Melbourne Cup," Tutt said.
"He ran third and just scraped into the semis and then last week he just blew them away, he went 'See you later'.
"If you get to this race, it's like the holy grail of racing. Everyone wants to win the Egg."
Tutt also raced La Pearl and she can now be found taking pride of place on the lounge.
Rare Pearl came from her first litter and Tutt thinks there is a couple of "good ones" in her second-and-last litter as well.
Having retired from racing, La Pearl just decided she was no longer going to live in the backyard, walked in through the back door and has become a permanent feature of the lounge room.

Tutt is big on the welfare of his dogs and has gone out of his way to find good homes for all his retired greyhounds at a time when the industry is in the news for all the wrong reasons - live baiting and the killing of thousands of unwanted or injured dogs.
"She used to sleep out there [in the backyard] and all of a sudden she came in, went on the lounge over there," he said.
"She's unbelievable and that's why they make such great pets, no one understands.
"I've always found homes. The only thing different now is you've got to record it.
"I used to go on Gumtree and ring up 2CC ... but I always made sure they went to a good home, I wouldn't just rock up and give a dog."
David Polkinghorne covers the Canberra Raiders, local rugby league, Canberra Cavalry, racing and cycling, along with every other sport, for The Canberra Times.