When 18-year-old Josh Katz isn't throwing himself into his study, the judo champion is throwing his opponents into the mat.
And he will be Australia's youngest male judoka to compete at an Olympics when he represents Australia in the Rio 2016 Olympic Games, along with 13 other students, graduates and staff from the University of Canberra.
Katz impressively studies a double degree in sports and exercise science and sports management while excelling in his martial arts.
He won the junior national championships in 2013 and 2014 and four straight junior Oceania Championships between 2012-15.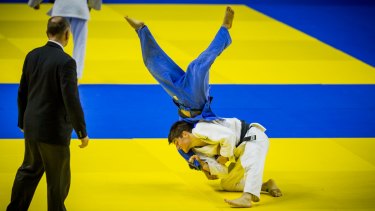 Excited to wear green and gold at his first Games, Katz is also proud to compete alongside his brother Nathan, another judo competitor.
"I'm very proud to be able to compete at the Olympics at such a young age, and I definitely feel like I have something to prove, maybe more so than some other people," he said.
"I want to show that my place there is no accident."
The University of Canberra athletes taking on the 31st Olympic Games will be participating in a range of events, including cycling, hurdles, basketball, javelin, swimming, rowing, hockey and athletics.
Two-time Australian cyclist champion and bachelor of science student Gracie Elvin said becoming an Olympian was an incredible reward for more than a decade of hard work – an achievement she dedicated to her father.
"I've been given this amazing opportunity and I want to show that I deserve to be there, mostly to myself, but also to all the people who have believed in me along the way," she said.
"A lot of people have doubted me, but even more people have been in my corner and I want to give my best for them."
The UC athletes are determined to make their university, city and country just as proud as they were when students and staff won 14 medals at the 2012 London Paralympic Games and Olympic Games.
Among the university's recruits set to make their debut games in Rio is Opals star Marianna Tolo, who could not be more glad about her comeback from an anterior cruciate ligament injury suffered just a year ago.
The Opals are ranked second in the world and have generally performed well at the Olympics.
"We've medalled the last five Olympics and so that will be a tradition we'll be looking to uphold," Tolo said.
"The gold medal is achievable, we've just got to go out and do our best to get it."
Acting vice-chancellor Frances Shannon said she looked forward to cheering on the athletes from the university's refectory, where the games will be displayed on the big screen.
"We are extremely proud of their achievements and we will be supporting and cheering for them on campus," Professor Shannon said.
"The University of Canberra aspires to be the leading university for sports education and research and supporting our elite athletes is an important part of that."
Through the Elite Athlete Friendly University network, the university assists more than 70 student elite athletes to balance managing their studies and sporting commitments.
The Rio 2016 Olympic Games Olympic take place in Rio de Janeiro, Brazil, from August 5 to August 21.
Gracie Elvin – cycling (road race) – bachelor of science student
Josh Katz – judo - bachelor of sports and exercise science/bachelor of sports management student
Lauren Wells – hurdler – bachelor of primary teaching student and bachelor of science in psychology alumna
Stephanie Talbot – basketball – bachelor of sport and exercise science student
Marianna Tolo – basketball – bachelor of sports, coaching and exercise science alumna
Kelsey-Lee Roberts – javelin – bachelor of sport coaching and exercise science alumna
Rachel Tallent – athletics (walking) – bachelor of science in psychology alumna
Regan Lamble – athletics (walking) – bachelor of graphic design alumna
James Roberts – swimming – bachelor of communication in advertising alumnus
Edwina Bone – women's hockey – bachelor of sports management alumna
Erin Smyth – Hockeyroos' physiotherapist – graduate diploma of extended scope physiotherapy alumna
Allyson Flynn – soccer assistant referee – physiotherapist and clinical educator at the University of Canberra
Jesse Aungles – swimming – bachelor of politics and international relations/bachelor of commerce degree student
Kathryn Ross – rowing (mixed double sculls with Gavin Bellis) – bachelor of nursing student
Clare Sibthorpe is a reporter for The Canberra Times