They called him 'sportbilly' at school because he was a natural in almost every athletic endeavour he tried and volleyball proved no different for a 14-year-old Ben Hardy.
Fast-forward three decades and following a glittering international career the Canberran will become the first volleyball player inducted into the ACT Sport Hall of Fame on Friday.
Hardy holds the Australian games record with 420 international appearances and represented Australia at the Sydney and Athens Olympics.
The 43-year-old captained Australia to its first Asian Championship title in 2007 and played professionally in Germany, Italy, Belgium and Poland.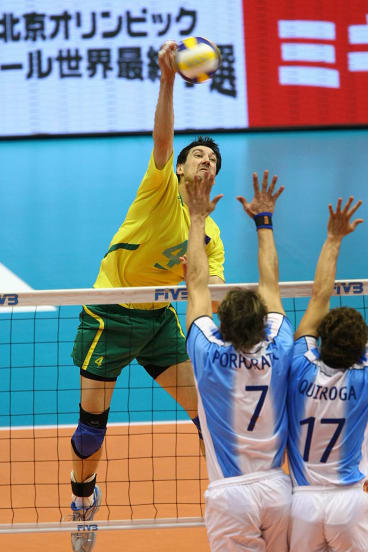 Hardy wrapped up his career with the Canberra Heat in 2011 and said he was honoured to become the first volleyballer inducted as a full member.
"It's a bit surreal in a way because your career is finished and you don't really think about awards and those sort of things going forward, so I was quite surprised," Hardy said.
"It's great recognition for the sport because you look at volleyball in Australia it's funny because people don't understand how big it is internationally.
"The first year I played professionally in Italy and I was having a cup of coffee and just got swarmed by people wanting autographs.
"The profile in Europe compared to Australia is incredible, there were 50,000 people at the opening ceremony for the world champs I played at in Poland."
Hardy was introduced to the sport at Lyneham High School and was in the same grade as another international sportsman in Wallabies and ACT Brumbies star Stephen Larkham.
"Going through school I had the nickname 'sportbilly' because I picked up sports quickly and was naturally pretty good," Hardy said.
"I came to volleyball rather late as a 14-year-old and I had an opportunity at a major schools tournament where I got the MVP and was named in the Australian junior team.
"It's harder to get noticed being from the ACT but also because you don't have the training and competition background, but at that tournament people saw I had some talent and it went from there."
Hardy won four domestic titles in Europe but it was his moments in green and gold which the former Australian skipper said he cherished the most.
"Beating Spain at the Sydney Olympics to go through to the quarterfinals in front of a home crowd was special and winning the Asian Championships for first time was a big highlight," Hardy said.
The 198cm hitter said he tried not to look back on his career with any regrets but admitted there were some things he would change.
"You get older and you understand how it is to be a professional and what is required but when you're young you're just doing your best and don't have that knowledge," Hardy said.
"If I'd known my body better I could have been fitter and a few career moves I would have done differently but I didn't know better at the time.
"In hindsight you think you probably should have done a few things differently or played for other clubs but I'm happy with the way things turned out."
Hardy was an assistant coach for the Australian men's team which narrowly missed out on qualifying for the 2016 Rio Olympics and he hasn't ruled out a return to mentoring.
"I really enjoy coaching and really get my teeth into it but with international sport you have to travel and I've got family and kids and that's more of a priority for me than following those dreams," Hardy said.
"I'd like to return one day but those decisions are out of my control and I don't know what the future holds, so I won't rule it out."
Hockeyroos star Peta MacKinnon will also be inducted as a full member, while champion coaches Phil Brown (basketball) and Paul Thompson (rowing) will be named as associate members.
Eamonn Tiernan is a sports reporter with The Canberra Times
Morning & Afternoon Newsletter
Delivered Mon–Fri.