How do you bury four years of Olympic Games pain and heartbreak?
If you're Caroline Buchanan, you get engaged and then trade your BMX for a mountain bike to win your seventh world championship to put a giant smile back on your face.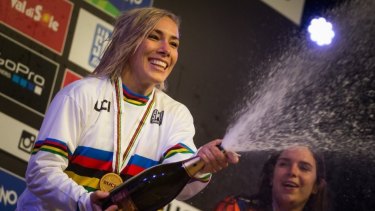 Buchanan started erasing her Rio Olympic devastation when she won the four cross world title in Italy just two weeks after she left Brazil in tears.
Canberra BMX star Buchanan crashed out of the qualifying stages at the Olympics despite being a gold-medal favourite. It was the second time her Olympic dream was shattered after finishing fifth in the final in 2012.
But pain turned to elation last week when partner Barry Noble proposed and then she capped off her weekend by winning her fourth mountain bike world title.
Buchanan, 25, has now won four mountain bike world titles and three BMX world championships.
"I was hungry but I was the most nervous I had ever been," Buchanan said after the race.
"I was starting to question myself. I qualified in third and I just thought whatever happens, happens. I just gave it everything and came out with a win.
"I got engaged this weekend so it's a really special weekend for me."
Buchanan is now the first person to claim four world titles in the four cross event after beating German rider Franziska Meyer and Netherlands star Annika Beerten across the line.
It was a massive turnaround from Buchanan's Rio experience, where she climbed into the stands to embrace her family after failing to qualify for the final.
Buchanan crashed on the Olympic track, but her fortunes were reversed in Val di Sole in Italy when two of her opponents collided and opened a path for her to take victory.
"I knew it was going to be tight going into the first corner ... I managed to get across and there was carnage," Buchanan said.
"Off the back of the Rio Olympics, I was absolutely devastated and so nervous today, but you've got to put those adversities aside and get back on the horse, back on the bike.
"You've got to keep going for the next goal. It's a really special year ... I'm hoping that Barry Nobles, my partner, can do it in the men's. That would be an absolute fairytale."
Nobles finished fourth in the men's final while Buchanan has already won the BMX time trial world title earlier this year.
"It's a massive challenge on a different bike, I felt uncomfortable [on the mountain bike]," Buchanan said.
"I just proved to myself that even off the back of my Rio devastation I can have a bit of redemption and come back out.
"It was a challenge for me to step back up and bring that confidence after what happened in Rio, but I think everyone needs to get back up after defeat and give it their best shot."
Chris Dutton is the sports editor at The Canberra Times.