A shattered voice box ended Art Bidlevskii's career, but Canberra Brave coach Josh Unice has urged his players to use the blood and broken teeth on the ice to inspire their finals charge.
The Brave have limped through the Australian Ice Hockey League with more than 15 injuries and the loss of import Bidlevskii after a horror incident earlier in the season.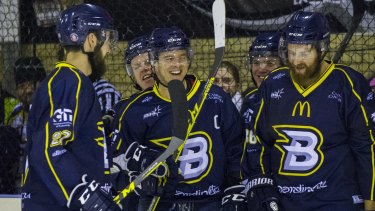 Bidlevskii, who came to Canberra at Unice's request, was told two weeks ago that he would never play again after an ugly incident after just six games for the Brave.
The 25-year-old Canadian was playing in Europe before moving to capital but lost his voice when he was hit in the throat in a match against the Newcastle North Stars.
The devastating end to Bidlevskii's young career is part of a string of injuries that included seven teeth being lost last weekend and one player needing emergency plastic surgery on his face.
"He had a career over in Europe playing but he was told that it was in his best interests if he stopped," Unice said.
"I feel pretty bad, it's sad but it was a freak accident. No one could have controlled it ... we were in the emergency room in Newcastle and no one had ever seen it.
"He's been handling it very well ... he just got hit and an elbow got him in the throat. They said it was like he had chewed on a straw for an hour and that's what his trachea looked like.
"We pride ourselves on being a family team and it's nice that now with six games left, we've got a full roster again.
"It's been crazy ... last weekend we sent four guys to the emergency room with teeth gone, one guy needed 25 stitches and see a plastic surgeon to get his face put back together.
"It's been a very interesting year from the beginning until now. But I think we're getting healthy again ... you bring in new faces and talent and it's starting to come together."
The Brave will play the Sydney Bears at Penrith on Sunday as they target a rise up the ladder and a chance to lock in their play-off spot.
The Brave is third on the ladder with 12 wins from 22 games and have all but secure a finals berth.
However, they can rise even higher if they topple the Bears as they chase the Newcastle side and ladder-leaders the Melbourne Ice.
"We've used seven imports this year just to have four on the ice," Unice said.
"It's a tight race in the top four, we're all fighting for second through fourth with only a few points separating us.
"The upper four teams have separated themselves, so barring a collapse we'll be in there. The Melbourne Mustangs are a very good team, but I feel if we play as well as we can, there's no doubt we'll make the finals."
AUSTRALIAN ICE HOCKEY LEAGUE
Sunday: Sydney Bears v Canberra Brave at Penrith Ice Palace, 5pm.
Chris Dutton is the sports editor at The Canberra Times.