Canberra Brave reached the Australian Ice Hockey League grand final after a dramatic 4-3 overtime win against Melbourne Ice on Saturday.
A goal from Jan Safar won the game for the Canberra outfit, who have now gone one better than their previous two seasons where they were eliminated in the semi-finals.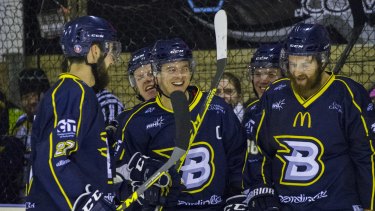 The grand final appearance is the first time a Canberra team has made it to the big dance in the AIHL.
It's a far cry from only three seasons ago when the Canberra Knights folded before the Brave resurrected ice hockey in the capital.
Casey Kubara scored once and Geordie Wudrick twice for the Brave in regular time but two goals from Melbourne's Lasse Lassen and one from Joseph Hughes sent the match to overtime.
After exchanging chances it was Safar who scored for the Brave, sending them to the grand final in just their third year as a team.
Brave coach Art Bidlevskii and his team are just one win away from lifting the Goodall Cup and said reproducing their semi-final performance would give them a great chance.
"We just have to come out with that same emotion we came out with today and execute our game plan," Bidlevskii said.
"We worked all year on creating a system and we have to play that system. It's been successful so far and it's taken us to the grand final."
Bidlevskii was delighted with Wudrick's performance and his ability to step up when needed.
"Geordie's a big player and he steps up for the big moments in big games and he did exactly that today, so I'm extremely proud of him," Bidlevskii said.
"I can't wait to see what he brings tomorrow."
The Brave will play the Newcastle in the grand final on Sunday afternoon after the North Stars' dramatic 3-2 win over Perth on Saturday night.
AUSTRALIAN ICE HOCKEY LEAGUE
Grand final: Canberra Brave v Newcastle North Stars, in Melbourne, 3pm.