Art Bidlevskii could die if he plays ice hockey again.
But even after fracturing his larynx and almost being put in an induced coma, the 25-year-old former Canberra Brave star can't walk away from the game he loves.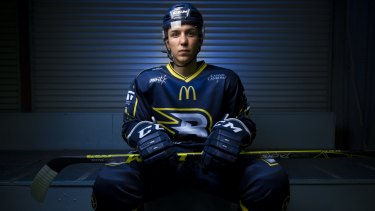 That's why Bidlevskii will be shouting orders from the Brave bench when they return to Australian ice hockey league finals action for the third consecutive year on Saturday night.
The Brave play Melbourne Ice in Melbourne for a chance to chase their title dreams.
But Bidlevskii has to settle for a coach's clipboard following a bizarre injury in Newcastle this year, after doctors told him he risks not being able to breathe if he gets hit in the throat again.
The Canadian came to the Brave for the start of the season at the request of former head coach Josh Unice.
During his short career Bidlevskii has separated his right shoulder twice, broken his leg, had a player's tooth go through his knuckle and suffered multiple concussions. But it was a crushed throat that ended his playing days.
"I knew this day would come, just not this soon," Bidlevskii said.
"I thought most players' knees starting going first but honestly, a [broken] throat is something I've never heard of before."
Despite having his professional ice hockey career ended prematurely, Bidlevskii decided to take a light-hearted approach to the situation.
"I'm not going to sit here and be sorry for myself. I'm always going to take the humorous approach and have a giggle that right now I talk like Batman," said Bidlevskii.
Bidlevskii broke his throat when a Newcastle North Stars player struck the Canadian in the throat with his hand and stick.
"[The Newcastle] player came to hit me so I tried to dodge it and I think that player readjusted himself and threw his hand and his stick up and it ended up catching my throat," Bidlevskii said.
"Right away I knew something was wrong. I took a swallow and my throat just dropped."
Unable to speak, the Brave defender went to the dressing room and didn't play in the rest of the match.
He planned to wait until returning to Canberra before going to hospital.
"I just wanted to get back home to Canberra and go to the hospital here to get it checked out because I thought it was a minor thing," Bidlevskii said.
"[The trainer] finally forced me to get a ride [to the hospital] and luckily she did because I was stuck there for another three days."
Hospital staff rushed Bidlevskii for scans and he was admitted to intensive care unit.
"They were actually thinking of putting me in a coma. That's when it really hit hard and I even get shivers thinking about it," Bidlevskii said.
"That's the last thing you want to tell your parents and your family and friends, that someone's going to put you in a coma. Obviously they are half a world away so they would be worried sick about me."
"I was actually worried how I was going to communicate that to them ... [Unice] was in the hospital right near me. He was going to be the one who had to make that phone call due to me not being able to talk."
AUSTRALIAN ICE HOCKEY LEAGUE
Saturday: Semi-finals: Melbourne Ice vs CBR Brave at Melbourne, 3pm.