Canberra Capitals import Mistie Bass said playing in the WNBL just three months after giving birth for the first time was the hardest thing she has ever done.
Bass proved an integral part of the Capitals offence this season, averaging 11.75 points per game, and while her teammates watched her dominate on court, they were unaware of her struggle off it.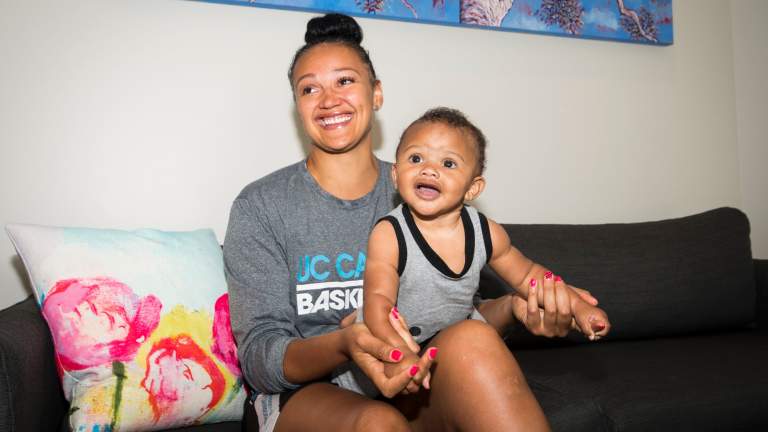 The American battled to shed baby weight and admits getting back to peak physical condition was much tougher than she anticipated after giving birth in June.
Bass only missed one of 21 games all season but the 34-year-old said her first Australian campaign was anything but easy.
"This was the hardest thing I've ever done, getting back in shape is something a lot of women struggle with but to lose baby weight and get back to your pre-baby form as a professional athlete was unreal," Bass said.
"I didn't anticipate how hard it was going to be, it was a real struggle for me but it was never really a topic of conversation, it was more of a personal struggle.
"I know it's just being a new mum and I've only been a mum for six months - I came here two and half months after having a baby. It was just about working out how I was going to be a mum and an athlete at the same time and how I was going to juggle my time."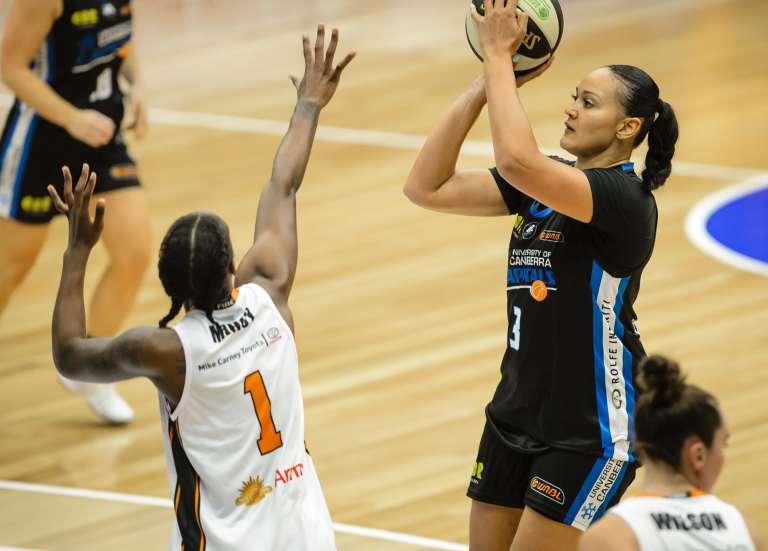 Bass had the unflinching support of coach Paul Gorris, who showed plenty of faith in signing the former WNBA champion last August.
"I love that guy and have so much respect for him for having the guts to hire someone who just had a baby, that's gusty," Bass said.
"He didn't push me too hard and after coming from Europe, it's rough over there because it's your job so they don't want to hear anything, but here Gorrie was very compassionate.
"He trusted I'd be a professional and make progress every month and just having his confidence and always hearing positive reinforcement from him was awesome."
Bass spent her final day in the capital donating the clothes her son Braven had outgrown to Karinya House which supports mothers in need, before she flies home to America on Friday.
The Capitals finals hopes were crushed by a 13-game losing streak but Bass said five wins in the final six rounds showed what they were capable of.
"We underperformed with the team we had, it just seemed like when we accumulated a few losses that losing became a habit for us and we just couldn't break it," Bass said.
"But the moment we broke the streak it was obvious what our potential was, we won five of our last six games and that right there should pretty much let the community know what we had.
"We beat the number one team [Perth] in the last game of the season which was a great way to finish, we didn't end the way we wanted to but we definitely ended the season the way we wanted."
Bass praised her teammates for helping get her back in shape and was "absolutely" open to the idea of returning to Canberra next season.
"Training was very competitive, Lauren Scherf and I went head to head a lot at practice and I see good things coming from her in the future," Bass said.
"She forced me to get back to that aggressive and dominating mental space on the court. After not playing basketball for a year some things are lost and she pushed me to get them back.
"The girls are such hard workers and most are still young, so I' sure there are really good things to come. I loved my captain Natty Hurst to death but the whole team and the dedicated fans were just awesome, it was a great season."
Capitals young gun Eziyoda Magbegor was named the 2017-18 WNBL rookie of the year after an outstanding debut season.
The 18-year-old averaged 6.6 points and 3.8 rebounds a game and ranked eighth in the league for average blocks, while leading the Capitals in the same department with 23 for the season.
The personal accolade comes after Magbegor was named in the Australian Opals squad and will join a training camp in Italy next month as the Opals begin preparations for the 2018 Commonwealth Games.
Eamonn Tiernan is a sports reporter with The Canberra Times