The Canberra Capitals will move to shore up their playing roster in the coming weeks in the wake of their most successful season in six years.
Capitals coach Paul Goriss is looking to emulate NBA powerhouse the San Antonio Spurs - the home of Canberra's Patty Mills - in building a consistent championship contender.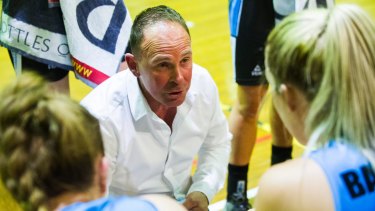 The Capitals fell one game short of a playoff berth and finished with a winning record despite having just two weeks of pre-season training under their belts.
Goriss says the Capitals "overachieved" with a new group erasing memories of a horror 2015-16 campaign that bore just two wins, and he will begin the recruitment and retention process in the next fortnight.
Keely Froling is the only contracted player for next season and Canberra will be without Marianna Tolo, who is set to test herself in Europe.
Goriss is confident Tolo will be back in the capital at some stage, with her loss compounding the retirement of 363-game veteran Carly Wilson.
"Successful teams always have continuity in their playing group," Goriss said.
"I always kind of look at what the San Antonio Spurs do, on another level, but they have their playing group together for a long period of time and that's something that I think we've got to have.
"[We need] that consistency of a playing group and continuity of players so you're not changing your roster by eight or 10 players every year.
"That's difficult with the money the girls are offered in Europe and other playing opportunities but the WNBL is a great product and hopefully the girls have enjoyed their time in Canberra and we can keep the majority of them here."
Kate Gaze joined the Capitals this season and the two-time WNBL championship winner is keen to extend her stay in Canberra.
If Gaze puts pen to paper she will be the lone title winner on Canberra's roster with Wilson retiring and Tolo seeking opportunities abroad.
"I'd love to come back, so we're probably going to start working on that pretty soon," Gaze said.
"Canberra's been a great place for me to live and hopefully I can call this place home for a little while.
"I've been on a lot of teams and this team just seemed to get on so well. Every team has their issues but we didn't seem to have many and it was such an enjoyable season."
Caden Helmers is a sports reporter for The Canberra Times