Canberra Capitals recruit and Lauren Scherf says the lure of working under Australian Opals assistant coach Paul Gorris proved too good an opportunity to pass up.
Scherf has signed for two seasons after leaving the Dandenong Rangers and follows dual Olympian Rachel Jarry who joined the Capitals last month.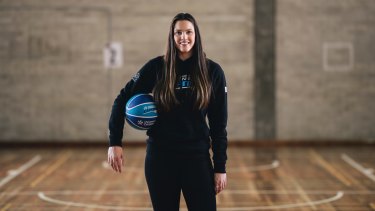 The 21-year-old is widely considered an Opal-in-waiting and forged a relationship with Gorris while playing at the AIS and in the Australian under-19 side.
Scherf arrives in Canberra to fill the void of Capitals superstar Marianna Tolo, but the budding talent wasn't buying into comparisons and just wants to work hard under Gorris.
"There is a little bit of pressure but I try not to dwell on what everyone else is saying, I just try to stay focused on my goals and committed to what I need to do," Scherf said.
"Being coached by Gorrie at the AIS and in the under-19s, that experience helped him sign me and I'm still really young and haven't hit my peak.
"I've always been known to be a five man but Gorrie and I are going to start working on being developed as a four man as well.
"Hopefully with my current international experience and playing WNBL in Canberra I can see a bit of future of being an Opal."
Gorris believes every WNBL club was in talks with Scherf and has "no doubt" his marque signing can press on and earn national honours.
"After losing Marianna Tolo so early on Lauren became one of our primary targets in that centre position after having coached and watched her develop," Gorris said.
"We're not going to replace Marianna Tolo but Lauren is the closest thing at 21 that we can get to what Tolo was at the same age."
Gorriss has only signed three players for the upcoming season but believes come round one in October he will have a championship-contending roster.
"I don't want to jump the gun and sign people who aren't going to fit into our culture and game style, I'd rather do due diligence and find the right players with the right character and work ethic," Gorris said.
"That's people who want to come in and get better and work hard and have ambitions to be future Opals and what underpins all of that is people with good character.
"Obviously they still need the ambition to win and be ruthless on the court and we don't have the budget to have 12 Opals, but we'll definitely recruit and go after the right ones that fit our program."
Eamonn Tiernan is a sports reporter with The Canberra Times