The Canberra Capitals have signed "one of the best young basketballers in the world" according to coach Paul Gorriss after making his penultimate signing for the upcoming WNBL season.
Eziyoda Magbegor has inked a one-year deal with the Capitals after impressing with the Centre of Excellence in the South East Australian Basketball League.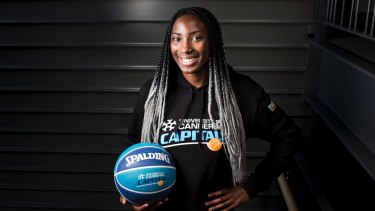 The 17-year-old first came across Goriss' radar as a 15-year-old member of the Australian under-19 side which won bronze at the 2015 world championships.
Magbegor starred in the under-17 Australian world title winning side that same year and the 194cm forward named the tournament's most valuable player.
Goriss coaches the national under-19 side and will work with Magbegor next month as the Gems gun for gold at the world championships in Italy.
"Ezi is one of the one of the best young players in Australia, if not the world, her being part of two championship winning teams, she has a huge up side in the game of basketball," Goriss said.
"I'm big on relationship building and it's the relationships that you have with players that's the most important, it's not about the wins and losses, it's about helping them on their pathway.
"As a future Opal she's definitely going to be a great player for years to come with her athletic ability. Ezi runs the floor well and is a great shot-blocker and we can switch a lot defensively with her because of her length.
"Being coach of the under-19s definitely played a part in recruiting Ezi and it's a great coup for us."
Magbegor said she can't wait to combine with Goriss in her debut WNBL season and despite comparisons to legend Lauren Jackson, the teenager isn't feeling the pressure to perform.
"Everyone I've talked to about Gorrie never says a bad thing about him, he works really well on forming relationships and players always eventually come back to him because he's not only a good coach but a good person," Magbegor said.
"I don't feel the weight of expectation, from external sources there's a lot of expectation but I just need to focus on being myself and knowing what I have to do.
"Gorrie has said there's no expectation on me to perform and be that big person in the team, so that's a good way for me to just focus on my skills and get better.
"Lauren Scherf is someone I really look up to as someone who can play both outside on the perimeter as a shooter and inside the paint, so I just want to soak in as much as I can from those senior players and improve this season."
Gorriss confirmed he'll fill the final spot on his roster in the coming weeks as Magbegor joins Scherf, Nat Hurst, Kate Gaze, Rachel Jarry, Abbey Wehrung, Keely Froling and American import Jordan Hooper in the Capitals squad for next season.
Eamonn Tiernan is a sports reporter with The Canberra Times