He almost made it as a player, but now Canberra Cavalry manager Michael Collins is off to Major League Baseball as a coach.
Collins is not just joining any team, but reigning World Series champions Houston Astros as a bullpen catcher.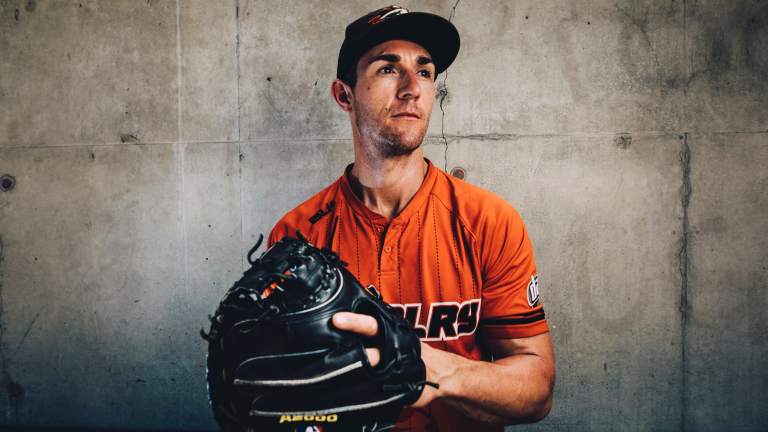 The 33-year-old has managed the Cavalry in the Australian Baseball League for the past six seasons, while also working as a coach within the San Diego Padres system.
He's also been linked as the future Australian manager, having worked as an assistant coach in the past.
But now he'll join the Astros staff and has a two-year contract as one of their bullpen catchers, where he'll work with the Major League team's pitchers.
Collins was excited about the chance to join the Show.
"It's an awesome opportunity, I'm incredibly excited to learn and see things at the top level first hand," he told Fairfax Media.
"It's not an opportunity that comes up everyday to join a Major League team and be a part of that team.
"It was obviously something I was incredibly excited and interested in when it came up, I'm definitely looking forward to being a part and I'm sure there's a lot of new things to see and learn."
Collins was joining the Astros at the perfect time.
Not only did they win the World Series for the first time last season, but they still have a young and talented roster that has the potential to repeat that success in the coming years.
Collins will be working on a daily basis with Houston's gun pitchers, like Justin Verlander and Dallas Keuchel.
But they've also got a star-studded defensive line-up including outfielder George Springer, most-valuable-player Jose Altuve and young gun Carlos Correa.
"They're an incredibly talented team - one of the best-looking line-ups on paper at this point - incredibly excited to not only be with a Major League team, but to be around a team as talented and as good as they are it's definitely exciting," Collins said.
"I think they're in a good position to have another successful year. Never count on anything, but they're definitely in the right position before the season starts."
The Cavalry travel to Sydney to face arch-rival Blue Sox this weekend, with game one of the series on Friday night.
They can wrap up a top-four finals spot and maintain their push for a top-two finish with a series win.
Meanwhile, Cavalry outfielder David Kandilas challenged Big Bash League teams Sydney Thunder and Melbourne Renegades to try and hit a home run at Narrabundah Ballpark ahead of their clash at Manuka Oval on Wednesday.
The Cavalry was giving free entry to anyone with a BBL ticket for that game free entry Saturday week of their final home series against the Brisbane Bandits.
David Polkinghorne covers the Canberra Raiders, local rugby league, Canberra Cavalry, racing and cycling, along with every other sport, for The Canberra Times.