After being rejected by the Australian system, Canberra 17-year-old Leo Mazis has signed with Celtic FC in a move that mirrors the success story of Socceroos superstar Tom Rogic.
Mazis failed to make the AIS Centre of Excellence academy and the Belconnen United midfielder wasn't even considered in Canberra United's National Youth League squad this summer.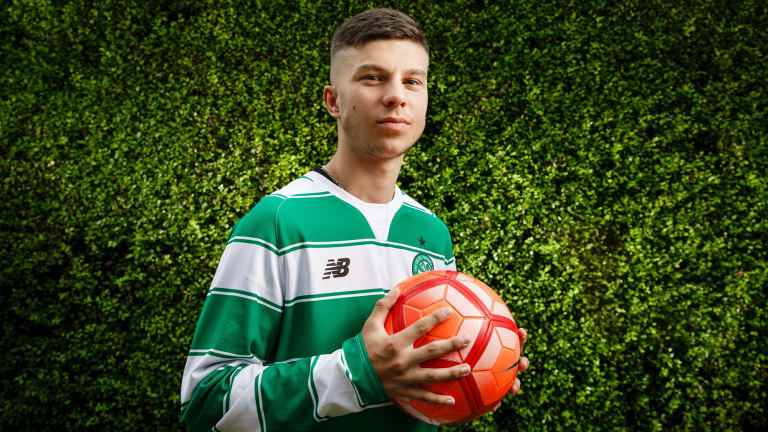 Rogic took a similar path to Celtic after he was ignored by junior national teams and the AIS, then won a Nike talent search competition and dominated the A-League, before signing with the Scottish powerhouse.
Mazis trialled at Celtic alongside fellow ACT teenager Nick Faust in November and made such an impression that manager Brendan Rodgers insisted he was signed immediately.
Mazis was unveiled as a Celtic recruit this week after flying to Glasgow last month to chase his dream of playing in Europe with a Champions League club.
"It's an incredible feeling, the hard work has paid off, it's just surreal to be honest and it all happened really quickly," Mazis told Fairfax Media.
"When I got there and saw how it all works over there, I knew I wanted to be in that environment and I did everything I could to get a contract.
"I caught up with Tom [Rogic] and he's a great guy, I'm going to learn a lot off him.
We're taking similar journeys but you don't want to follow in someone's footsteps, you want to create your own journey.
"He's one of my idols and someone I look up to as a person and player, but I'm trying to create my own path. I am going to learn things over there that are absolutely priceless, I can't wait."
Rogic and Mazis both spent several years training in Canberra under former Reading and Socceroos defender, Andy Bernal, who says the duos their mental strength is what sets them apart.
"Most so-called football experts in this country ignored both of them, especially in this city, they were ignored at young Socceroos level and ignored at the AIS," Bernal said.
"I don't know if that's an indictment on our system or what we're looking for but I remember taking Tom to camps at the AIS and they said 'no he won't be a footballer'.
"Then Leo was ignored by the FFA COE and by the local NYL team, I don't get it, Tom was the the best kid in this city by a mile and Leo is the next best kid in this city, by a mile.
"But the rejection fuels you to prove people wrong. I told Tom and Leo, 'the people who ignore you and don't believe you can achieve something, go prove them wrong on the pitch'."
Bernal said there are plenty of similarities between Rogic and Mazis and that signing with "one of the greatest clubs in the history of football" is a fantastic achievement, but emphasised the job starts now.
"The biggest parallel is these guys turned up to the gym all the time, you couldn't break them and it was more the mental side that set them apart," Bernal said.
"Guys can have a lot of great physical attributes and be fantastic footballers with all the technique and the football brains ... but to become a top professional footballer requires a lot more than just ability."
Rodgers is known for showing faith in youth but Mazis said he wants to make an impression with the development side before he even thinks about making the first team.
"Initially over there I was training with the under-17s then the under-20s and when the call came to train with the first team it was really exciting and bit scary to be honest," Mazis said.
"It was way more than I had expected but it all went well and the boss [Rodgers] and [assistant] Kolo Toure pulled me aside and had some nice words and advice for me.
"This is all I've ever wanted to do, ever since I was born, but there's still a long way to go and nothing is guaranteed. The goal is to be playing first team football, but it's going to take a lot of hard work.
"Mum and Dad have been a huge support and Andy, without him I definitely wouldn't be here, and I suggest any young kid wanting to do what I'm doing - go see him."

Eamonn Tiernan is a sports reporter with The Canberra Times
Morning & Afternoon Newsletter
Delivered Mon–Fri.