They're the five Canberra kids trying to follow Jarryd Hayne's path to the NFL, and they'll get a chance to prove themselves on the big stage when they play at the under-19 world championships of gridiron on Wednesday.
Rugby union converts Shawn Stewart and Dale Haskew will be joined by Hayden Clark, James Thornhill and Kerian Reilly at the tournament in China to play for the Australian side known as "The Outback".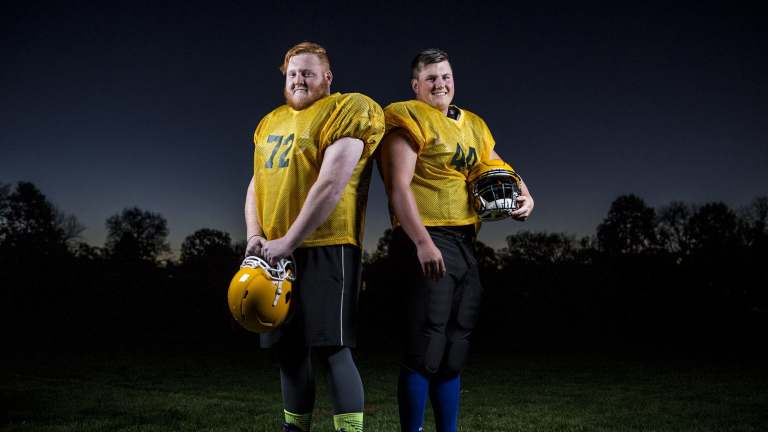 Hayne has given up on his NFL quest, quitting the San Francisco 49ers to chase a spot with the Fiji sevens team at the Olympic Games in Rio.
But Stewart and Haskew are launching their own career ambitions and hope they can pursue their NFL dreams as part of Australia's young gridiron talent.
The pair found a passion for the American sport through friends and family, before starting to play for Centurions.
Haskew, an 18-year-old defensive lineman, is aiming high considering his gridiron career came off the back of a casual schoolyard conversation and admits his dream to play for Australia came a lot later than normal international ambitions.
"I had a mate come up to me when I was at school and he asked me if I wanted to play gridiron, I just said 'that's pretty weird, but I'll give it a go' and then after four years of playing I made the state team, went to the trials and now I've made it this far," Haskew said.
"Every time I play I just look to give it my best, and I'd like to see where I can take it.
"In February last year we had a couple of coaches from America come out and run training camp and they offered me a role on their high school team to go and play over there, and that was the moment I realised I could really go somewhere with it."
Stewart, an 18-year-old defensive end, idolises Houston Texans defensive end JJ Watt and says he would consider moving overseas if the opportunity came about.
"I never really thought I'd be playing for Australia until I went up to the Gold Coast and it hit me when I got up there that I very well could.
"I've never had any major ambitions for gridiron, I mainly play it for fun. I would prefer to stay at home in Australia but if I did get an offer from America I'd definitely consider it," Stewart said.
Stewart's dad, Derek will be accompanying the team to the world championships in China and says he is very proud of what his son has been able to achieve in a sport that is so unfamiliar to most Australians, especially because of his rugby upbringing at St. Edmund's College in Canberra.
"I'm very proud of him, I love the fact he's got the chance to represent Australia, it's something that every athlete dreams of when they get serious about a sport," Stewart's father said.
"He went on tour to New Zealand with St Edmunds at the start of last year and played in the division one competition for under 18s rugby league, so it has been a tough transition in to the sport be we couldn't be prouder of him".
The event will be held at the University of Harbin and the under-19 Australian side will play in the first game of the tournament against host nation China on Wednesday.