Canberra Olympic will progress to the FFA Cup round of 32 after seeing off Cooma Tigers 3-1 in the Federation Cup final at Deakin Stadium.
Although the Tigers scored first and had more ascendancy going forward in the first half, Olympic moved the ball with more class and precision.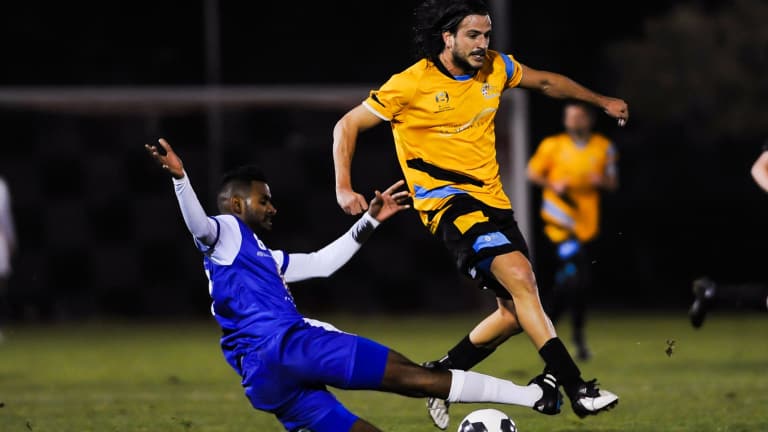 The game was all tied at half-time at 1-1, before Jordan Tsekenis found space on the far post and calmly slotted a 47th-minute goal to put the eventual winners in front.
More than 800 people attended the physical game in which eight yellow cards were shown as tensions ran high.
And when the Tigers pushed forward desperately for the equaliser, space opened for Olympic's Robbie Cattanach to score the sealer in the final few minutes.
Winning coach Frank Cachia said the physical nature of the final was indicative of the quality of each side.
"They were always going to come out hard and they [the two teams] are first and second for a reason," he said.
"There's obviously a lot of ability in both sides and there's a lot of physical attributes that both sides have that other teams can't match at the moment."
Olympic will know their fate once the draw for the round of 32 is conducted later this month. Cachia said his side would relish the opportunity to play the nation's best.
"If we did get an A-League side I think it would be a real thrill for the boys, and I think it would be a real stake in the ground for the club as well because this club is 60 years old, and although we've produced some great players we've probably under-achieved a little bit," he said.
"Winning trophies like this and having the possibility of getting on a national stage now is outstanding."
Captain and goalkeeper Angelo Konstantinou shared his coach's excitement to be taking on Australia's finest.
"Every team in Canberra wants to be representing Canberra and going through to this tournament, we're just lucky it's us," he said.
"You just take what comes, you've got to beat everybody," he said.
"You can't say 'I want an easy team or a hard team', you've just got to play whoever you get.
"Undoubtedly it's one of the greatest things to play an A-League team, the pinnacle of our sport in Australia."
CANBERRA OLYMPIC 3 (Phillipe Bernabao Madrid 19, Jordan Tsekenis 47, Robbie Cattanach 85) bt COOMA TIGERS FC 1 (Stephen Domeneci 16) at Deakin Stadium.
James is a reporter for The Canberra Times and Chronicle