If it was up to former Canberra Raider Terry Campese, Sundays would still be sacred - at least when it came to the Canberra Raiders Cup.
But it's the Goulburn Workers Bulldogs who will have a bigger case of the Blues when they go to work Monday morning after they went down 46-24 to Queanbeyan at Goulburn on Sunday.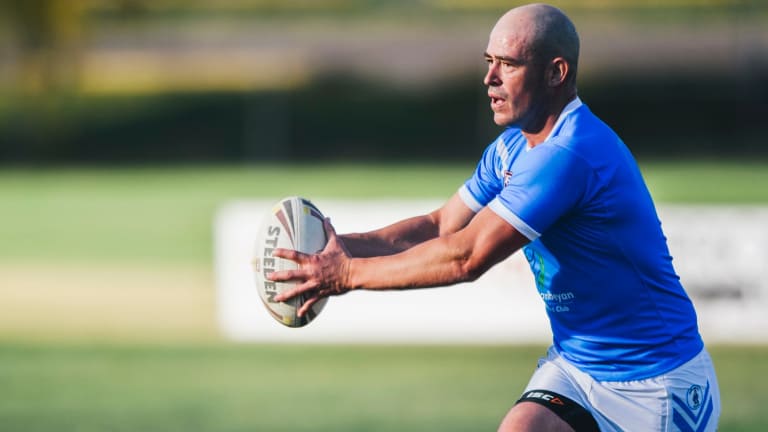 It kept the Blues undefeated and clear at the top of the Canberra Raiders Cup ladder with five rounds to go, while the Bulldogs remain in the logjam vying for fourth spot.
Campese joked he wasn't looking forward to work on Monday morning, preferring to play Saturday's to give himself a day to recover in between.
"It's hard getting up for a Sunday game knowing you've got work tomorrow," he laughed.
The Blues got off to a flying start, scoring three tries in the opening 12 minutes, with winger Brendon Taueki, Thomas Reudiger and fullback Jake Wheeler all crossing for the visitors.
But then an unusual pattern of Bulldogs play started to emerge as they scored their first of a series of tries off of restarts.
Their kick from the middle hit one of the uprights and fell perfectly into the arms of Goulburn's Blake Hewitt for the forward to score an unusual try.
It was the start of a recurring pattern for the home side, who scored a majority of the tries following restarts.
Following the Blues' opening flurry, it was an even contest with both sides running in five tries each for the remainder of the game - including Taueki's second, as the rugby union convert extended his lead at the top of the league's try-scoring table.
"We streaked out to an 18-nil lead and were completing 100 per cent and then I think they scored five tries and all-but-one were from kick offs, " Campese said.
"They got one that hit the posts and they scored directly off the kick off and then they scored three off the back of errors dropped off the kick off.
"For them to get the ball back off every kick off, I've never seen that before."
Campese said his unbeaten Blues were set to become stronger following their bye next week, with former Canberra Raider Kyle O'Donnell, Mitchell Day and Ilaisa Ngata all set to return when they face third-placed Yass in a fortnight.
Meanwhile, the Woden Valley Rams have re-signed coach Ash Barnes for two more years.
AT A GLANCE
Queanbeyan Blues 46 (B Taueki 2, T Reudiger, J Wheeler, G Stewart, T Stevens, A McInnes, B Nicoll tries; T Campese 6, B Taueki goals) bt Goulburn Bulldogs 24 (B Hewitt, T Cornish, D Stephens, Z Hart, N Cornish tries; B Hewitt 2 goals)
David Polkinghorne covers the Canberra Raiders, local rugby league, Canberra Cavalry, racing and cycling, along with every other sport, for The Canberra Times.