Canberra United coach Rae Dower will unleash one of the most potent attacking combinations in W-League history this season, giving her goal-scoring stars a licence to ambush rival teams.
Dower added two more pieces to her puzzle when she unveiled US duo Jasmyne Spencer and Celeste Boureille as the team's latest international recruits.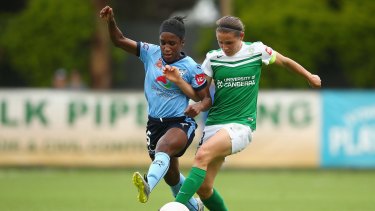 Spencer, a former Sydney FC striker, joins a growing list of attacking threats and will join Michelle Heyman, Ashleigh Sykes, Hayley Raso and Stephanie Ochs up front.
Dower is backing Canberra's goal-scoring power to shine this year as they chase a third W-League title.
"I think [having those players] sends a bit of a message about how we want to play this year," Dower said.
"We've got some great attacking strike weapons but we haven't forgotten about where the ball is going to come from or the supply chain.
"We're pretty happy with the foundations we've got from a defensive perspective ... it sends a pretty clear intent on how we want to play and other teams can catch us if they can.
"All coaches want to play attacking, attractive football and the game is about scoring goals. The more you score, the greater chance you have of winning. So I'm pretty happy with that."
Dower has been working with clubs in the US and Japan to secure international recruits on-loan for the season, which starts for United against Melbourne City on November 12.
Spencer, 26, is on loan from the Orlando Pride, while Boureille, 22, plays for Portland.
Dower will announce a handful of players in the coming weeks to finalise her squad before the campaign begins.
Her American tag-team will likely arrive next week, while Japan champion Yukari Kinga will also link with the club.
"We've done a bit of work with [former Matildas coach] Tom Sermanni, who's now coaching Orlando and it's great that we've managed to get these girls over here," Dower said.
"It's coming together and we're into training so I think the [international] girls will be able to slot straight in."
Spencer said: "I'm excited to bring my talents to an already talented team. I can't wait to take on season nine and hopefully help Canberra win another championship."
Chris Dutton is the sports editor at The Canberra Times.