Canberra United will reunite its star attacking duo when the W-League season begins after finalising deals to keep Olympian Michelle Heyman and reigning player of the year Ashleigh Sykes.
The Canberra squad is starting to come together two months before the start of the W-League season against Melbourne City.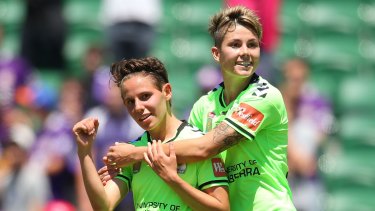 Heyman and Sykes have been crucial cogs in the line-up in recent years and their recommitment to Canberra is a huge boost to coach Rae Dower's plans for another title.
Heyman was part of the Matildas squad that suffered a heartbreaking loss to Brazil in the Olympic Games quarter-finals in August.
"I am delighted to sign again for Canberra United," Heyman said.
"Canberra is now home for me and the opportunity to again represent this great city is something I look forward to.
"Canberra United continually challenge for the title and I can't wait for the season to start so that we can do our terrific fans proud."
Sykes has been playing for AS Harima Albion in the Japanese second division after an outstanding season saw her claim the top individual W-League prize last year.
Sykes won Canberra's player of the year, players' player and supporters' prize at the United presentation night before being awarded the Julie Dolan medal.
"After spending an enjoyable and challenging time overseas this year I can say that it seems like there's no place like home," Sykes said.
"I can't wait to get back into it with old and new faces at Canberra United."
Canberra has also signed American star Stephanie Ochs, but goalkeeper Lydia Williams is yet to finalise a deal.
There was speculation Heyman and Williams were being courted by Melbourne City in the off-season and that the duo may not return to Canberra.
"They're [Heyman and Sykes] both key members of the Canberra United family and return as more experienced and worldly after their last six months," said Canberra coach Rae Dower
"Michelle had an excellent Olympic campaign for the Matildas in Rio and has now had a nice holiday to freshen up for the season ahead.
"Ash as the reigning Julie Dolan medallist has also spent an exciting six months in Japan adding to her burgeoning football resume.
"With some new faces to the squad this season, I will be calling on all of Michelle and Ash's guidance as we head into season [nine] and I'm delighted to see them return to our green family."