Georgia Yeoman-Dale was digging holes at job sites around Canberra four years ago while trying to start her soccer career, but she hopes a move to Newcastle is the spark that ignites her Olympic ambitions.
Yeoman-Dale is back in Canberra for an Australian Matildas camp at the AIS this week as the team continues its preparations for chasing a medal in Rio later this year.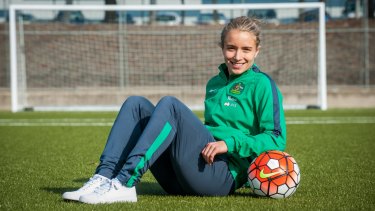 Yeoman-Dale is a Canberra junior and broke into the W-League with Canberra United before shifting to the Newcastle Jets two years ago.
She's on the cusp of Matildas selection, capping off a whirlwind journey that has seen her work as a tradie around Canberra, win a W-League title and now aim for Rio.
Yeoman-Dale was working as a builder's labourer in the capital as she watched the 2012 Olympic Games in London. Now she hopes she's part of the biggest sporting event in the world.
"It's watched Australia-wide, I don't know anyone that doesn't have interest in the Olympics when it's on. Regardless if there's a sport that you normally follow or not, it's a big thing for Australians," she said.
Yeoman-Dale played twice for the Matildas in 2012, but her move to the Jets re-ignited her place in the Australian frame, and she was called up for matches against England and China late last year.
Having been split between training and working during the last Olympics, the 22-year old knows just how big the Olympics are for Australians, and a dream for many to compete at.
Dropped for the Olympic qualifiers earlier this year, Yeoman-Dale took it in her stride and welcomes the opportunity to audition in front of Matildas head coach Alen Stajcic, with some senior players away at overseas clubs.
"Training is obviously important but if you're not playing in matches then you're not going to improve[as much]," Yeoman-Dale said.
"When W-League is not on, it's very difficult to train in front of the national team coach, so having different players away at different times opens up spots for those who don't have that chance very often."
Yeoman-Dale said that despite the brisk weather, coming back to Canberra for camp offered her the chance to catch up with her family.
"It is good but I probably don't get to see them as much as I should. We have a pretty packed schedule while we're here."
The camp also offered a break from studying, albeit poorly timed, with three weeks left of her first semester at Sydney University before exams.
"I'm studying a double degree in Civil Engineering and Commerce," she said.
Yeoman-Dale wears the No.7 jersey for the Sydney University Football Club, leaving little time for any work on the side.
"No, I'm full-time study and full-time training, which doesn't leave much time for anything else. So yeah, it's just whatever I earn from my football is my income," she said.