Michael Rice started cycling as a kid just to get the day off school - to think it has since taken him around the world is almost beyond belief.
One of the more down to earth characters you could meet, Rice has joined one of the world's leading under 23 development squads in the Axeon Hagens Berman cycling team.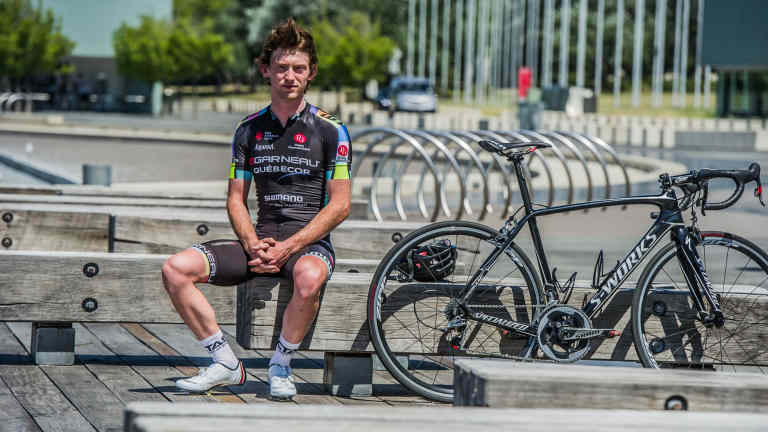 Rice joins a team boasting eight Americans and eight foreigners, and becomes just the fifth Australian in history to join the Axeon Hagens Berman team.
The 20-year-old has spent much of the year racing in Canada for Garneau-Quebecor, where a stage win on the Tour de Beauce capped off a successful stint in the land of the maple leaf.
Rice has had to keep his next movement under wraps for some time - the deal was done over a landline phone in Canada months ago.
Without a mobile and often out training, Rice was constantly calling team director and owner Axel Merckx on the landline to lock in the contract so he wouldn't miss the boat.
He jokes Merckx only signed him so his phone would stop ringing.
"It was all finalised before I left Canada, which was great and made the paperwork and phone calls easier to manage," Rice said.
"I was pretty excited about it so I wanted to tell the world. I told a couple of people I could trust, just for something to talk about."
Rice will have a home base set up in Boulder, Colorado, but his schedule means he will spend time racing across both the North American and the European circuits.
"We'll be racing right across America and parts of Canada," Rice said.
"[We will] also participate in the under 23 races in Europe like the Paris-Roubaix and Tour of Flanders, which are quite big races on the calendar to us."
The latter two races are often referred to as "the cobbled classics", and Rice hopes his time riding in Belgium as an under 19 will hold him in good stead on the cobblestone roads.
In his school days at Daramalan College, Rice jokingly dubbed himself the "R-Car" and was often introduced by his mates as a future Tour de France winner.
While he says that dream could be a while off, Rice is in good hands with the Axeon Hagens Berman team.
Axel Merckx is an Olympic bronze medallist and the son of Eddy Merckx - a five-time Tour de France champion widely regarded as the greatest rider in the history of the sport.
"It's definitely a goal. I don't know if it's a reality yet but that's something to aim for in the future," Rice said.
"The goal is to spend this year with Axeon and then ultimately move into the professional ranks, and try have a career in the world tour at some point."
Rice will join his new teammates for a two-week training camp in California in January before returning to the United States in April.
Caden Helmers is a sports reporter for The Canberra Times