A group of unknown soccer fanatics are preparing a secret bid to launch Canberra back into contention for an A-League expansion licence.
Capital Football chief executive Phil Brown confirmed he had been approached by a group of people about gathering information for a third-party bid.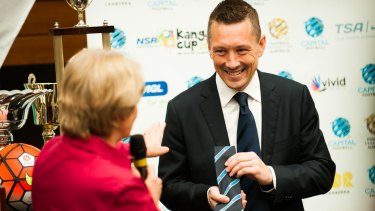 It comes a day after ACT Chief Minister Andrew Barr said plans for a new state of the art rectangular stadium in Civic needed an A-League team in the capital to make the project viable.
It can be revealed the Central Coast Mariners will meet with Capital Football this week about continuing their push into Canberra after shifting two home games to Canberra Stadium this season.
There have also been rumours of the Wellington Phoenix relocating games to the capital, but the Football Federation Australia has delayed expansion for at least the next two years.
News of the secret bid comes almost a decade after the "A-League4Canberra" bid, which raised $5 million for a licence but was overlooked by the FFA.
Details remain scarce and the consortium is yet to go public with their plans but they have been working behind the scenes to gather information.
"I'm aware that there's a consortium out there that's putting together a submission and the paperwork to put in a bid," Brown said on ABC Grandstand.
"I don't know a lot more about it than that. They've contacted me a couple of times to give them some background around the footprint, the size of football in Canberra."
While Brown said he has been in touch with the faces behind the consortium, he claimed "I don't know the people myself".
"I would suggest they are local but other than one brief conversation and some correspondence providing some background on the footprint, we haven't been involved in anything," Brown said.
Brown said an A-League bid in the capital would "absolutely not" be bankrolled by Capital Football, maintaining their priorities lie in grassroots football and the local senior competitions.
The Mariners are keen to forge a relationship with Capital Football and the ACT government despite just 10,000 people watching their two A-League games in Canberra this season.
Mariners chief executive Shaun Mielekamp will meet with Brown and Capital Football chairman Mark O'Neill to discuss the club's future in the region.
Capital Football has been working to expand its participation area, with the Riverina Rhinos joining the premier league this year to boost the catchment zone.
There are already more than 31,000 soccer participants in Canberra, but the FFA has said it would not expand into areas with a population of less than one million.
Ivan Slavich, the man who headed up the ill-fated A-League4Canberra bid, says Capital Football's backing is the only thing that could make a bid sustainable.
He is contacted regularly by people wanting to launch new bids but sees his involvement as "a waste of time" if the financial backing isn't already there.
Slavich admitted partnering with an existing club is probably Canberra's best hope for an A-League presence.
But the Mariners' future in Canberra is clouded, with the government hesitant to lock in a deal to ensure their return to the capital.
The presence of an A-League team would bolster the case for a new sporting venue in Canberra given the plans appear doomed without winter and summer events.
Barr said there was "no way" the government would give a new stadium the green light if the ACT Brumbies were cut from Super Rugby.
He then threw another spanner in the works, saying Canberra would need an NRL, Super Rugby and A-League team before signing off on the project.
But a secret bid could breathe life into the stadium debate with some people holding out hope of a Canberra franchise in the A-League.
Caden Helmers is a sports reporter for The Canberra Times