Capital Football's most heated rivalry is set to reach fever pitch after Canberra FC booked a place in the National Premier League grand final against Canberra Olympic.
A hat-trick from Kye Edwards sent Canberra into the decider with a 5-1 thumping of the Cooma Tigers at McKellar Park on Sunday afternoon.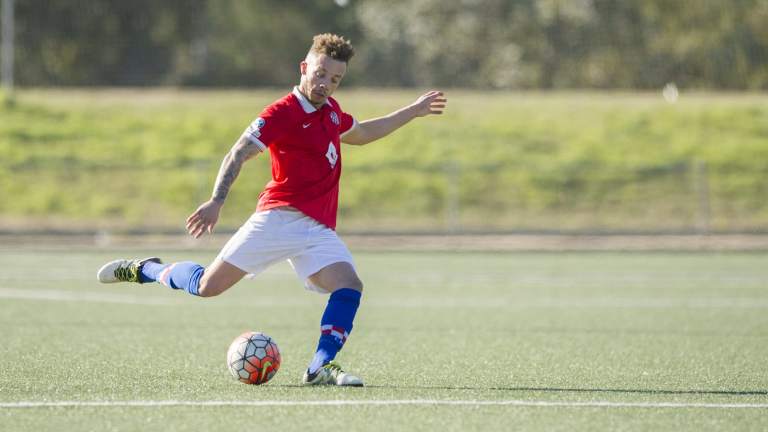 The loss ensured Cooma bowed out of the finals in straight sets for the third year running, while Canberra FC readies itself for a fourth consecutive grand final.
Canberra has been on the wrong end of the grand final result three years running, and coach Zoran Glavinic hoped the tide would turn next Sunday.
"Canberra Olympic have been the form team this year," Glavinic said.
"It comes down to the grand final and anything can happen. We're hoping it's going to be a Canberra FC grand final, a reverse of last year, because we played them last year out at McKellar and we lost 3-1."
Glavinic said Canberra would have no shortage of extra motivation leading into the grand final with last year's heartbreak still in the back of its mind.
"It'll be something we'll be addressing on Tuesday night at training and then during the week," Glavinic said.
"[With Olympic] being premiers and playing in the FFA Cup, we don't want them obviously to win the third trophy, so we'll be working hard during the week to cancel that out."
Edwards became accustomed to finding the back of the net thanks largely to the efforts of teammate Thomas James, who had a hand in all five goals.
Edwards first struck from close range to put his side in front in the 19th minute, before converting a James cross 10 minutes later.
It was a different story at the other end of the field as the Tigers lacked the execution to get themselves on the board leading into the break.
Second-half goals to Aidan Brunskill and James Field all but cemented Canberra's place in the grand final before the Tigers got one back in the 77th minute through Alexandre Uricaru.
It was too little too late as Edwards bagged his hat-trick in the dying stages.
"[Edwards] deserved his opportunity today and scored a hat-trick ... [James] had an outstanding game but to everybody's credit, everyone played well," Glavinic said.
With a grand final looming, Glavinic said it would be business as usual over the coming week.
"I was going to say [we want the] three points, but a grand final win is the only outcome that we'll be looking for," Glavinic said.
"We're going to try hard, mate, and we're going to go and fight for everything we can."
CANBERRA FC 5 (K Edwards 19, 29, 92, A Brunskill 73, J Field 75) bt COOMA TIGERS FC 1 (Uricaru 77).
Caden Helmers is a sports reporter for The Canberra Times