On Saturday night passionate, painted, CBR Brave ice hockey fans emerged (feeling emotionally wrung-out and with nerves a'jangle), from the Arctic cold of the Phillip ice rink into the similarly Arctic cold of a Phillip winter night.
We'd been at a match of 19 goals. Nineteen! Our beloved CBR Brave had lost 10-9 to the despised league-leading Melbourne Ice. We'd known despair, ecstasy, then ultimately despair again. And as if jet-propelled hockey play isn't thrilling enough, we'd seen play enriched with on-ice fights galore and a sin-bin often populous with sinners.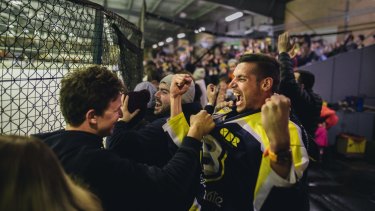 If Shakespeare had written a tragedy based on ice hockey (and why didn't he?) it would have unfolded very much like Saturday's occasion, and like so many others we boutique few, we Bravehearts, flock to in a Phillip winter.
"That place smells like socks!" a cultured Canberran recalled with horror when I told her I couldn't go to her Canberra Symphony Orchestra concert because it clashed with a CBR Brave ice hockey match. Those matches are played at the adorably dilapdated and, yes, somehow uniquely-perfumed rink of the Phillip Swimming and Ice Skating Centre.
At this twilight-of-the-winter-season time when tens of thousands of Canberrans are understandably focused on the finals fortunes of the Canberra Raiders, a far smaller cohort of Canberrans is passionately, sometimes fanatically engaged with our Australian Ice Hockey League gladiators the CBR Brave.
After a typically bruising and biffing season (seven teeth were lost in just one match in July, staining Phillip's ice with gore) the Brave seem highly likely to whizz into the finals in Melbourne on August 27 and 28. Last weekend's double-header against the Melbourne Ice at sock-smelling Phillip was this season's last chance for Canberrans to see our warriors on home ice.
The capacity crowd (the old arena strains at its rusty seams when there are 1000 souls there) was dressed as if for the snowfields (ice rinks are Siberianly cold). Overwhelmingly our "snow" gear was in the blue, yellow and white of Brave merchandise.
This quite cultured reporter (on nights when the CSO and the CBR performances clash, I feel a tug of love) is a relatively late convert to ice hockey fandom.
But today, whenever I am explaining Canberra's mystique to sceptical non-Canberrans I hear myself say that a real city's life needs to bristle with diversity, that to be a real city a metropolis needs jewels as diverse as a fine symphony orchestra and a national league ice hockey team. My city, I brag, has both of those.
The sardine-can intimacy of the Phillip rink is essential to the Canberra ice hockey experience. When pollies comes to start a game with a symbolic puck drop some fans pipe up with the demand "New rink! New rink! New rink!" And yet if we ever get a spacious, high-ceilinged, glossy venue (like Melbourne's, and like those sprinkled all over Scandinavia and North America) we will feel that something has been lost.
That something will be the way in which at Phillip we the fans are so close to the players. They hurtle to and fro, sometimes crunching one another against the boards before our very eyes. Going to and from the ice the players pass among us. As they walk, their skates make them seem toweringly tall. The protective gear they wear makes them bulkily enormous. They seem like a special, godly race, half giant, half robot (walking on skates requires a plodding, robotic gait).
And so when last week I went to meet some CBR Brave players in off-ice civvies, two average-looking young men sauntered up to me with average-looking gaits. They turned out to be anything-but-average CBR idols goaltender Aleksi Toivonen and defence man James (Jimmy) Byers. You know you are getting old when your sports idols are almost young enough to be your grandchildren.
I wondered how Jimmy Byers, 22, born in Australia, hadn't played Australian footy instead of unAustralian hockey.
"When I was about six we moved to Canada and lived close to an outdoor rink and we [his brother Harry too is an ice hockey star] went there every day," Byers said.
"And as well as hockey being the thing to do there, on the flight over we watched The Mighty Ducks [the sentimental epic in which a hopeless peewee hockey team – "They Can't Skate. They Can't Win. They Can't Be Serious!" – rises to greatness]. And so hockey really got to me."
Ice hockey is hair-raisingly exciting to watch and we wondered what it's like to play. There was true love in the young ANU student's voice as he enthused about his sport.
"There's no other feeling quite like it. Because it's a contact game you've got to have your head up. There's just a special kind of awareness while you're out there."
Hockey is so fast, so brutal, that this reporter, a timid weakling, wondered if Byers (on the ice he is famously combative) found that side of the game fun.
"Yes. Yes," he enthused without hesitation. "It's [the nature of] ice hockey ... Players do get aggravated, and it's all part of the fun. For me it's all trying to keep a cool head, but yes, sometimes I do lose that."
Well-travelled Byers and the Finn Toivonen – who used to the swish rinks of his hockey-mad nation – admit to a love/hate relationship with the shabby little Phillip venue.
"This is the worst ice rink I have ever been in," Toivonen, 21, told me as we sat among the Phillip shabbiness.
"But I've I've never been in an ice rink like this for atmosphere at the games. Fans are really close to us in the games. I really love playing here. I can hear the fans and sometimes [CBR Brave fans are inventive about this kind of thing] I can hear some fans singing a kind of song about me."
Jimmy Byers agreed that, yes, "This is probably one of the worst rinks I've ever played in.
"But it's the crowd that makes me love it, that makes me not want to change it. You fill it up on a Saturday and the atmosphere's great. When I'm playing I forget what the rink is like. It's awesome playing in front of people here ... I can hear people calling 'Go, Jimmy!' "
We filled up the rink on Saturday and the best-in-Canberra atmosphere was great. The crowd's yodels of joy over our nine goals and the roaring chants of "CBR! CBR!" threatened to lift the old tin roof off the old tin rink and send it Frisbee-ing away off across the Monaro like a flying saucer.
Ian Warden is a columnist for The Canberra Times