AFL Canberra boss Steven Mahar says the name change of the ACT's only NEAFL team is "not just Eastlake rebranding as Canberra Demons", but is about providing a clear AFL pathway and "dropping any baggage" from Canberra's fierce inter-club rivalries.
Eastlake's NEAFL team will now be known as the Canberra Demons, while their lower grade teams will retain the Eastlake name.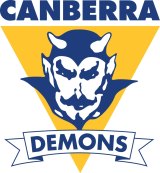 The Canberra Demons will wear a blue-and-gold guernsey for home games and their traditional red-and-black one for away games.
It's a move designed to ensure the NEAFL side is seen as a Canberra representative team to allow all the local teams to get behind it - and put their rivalries aside.
Mahar said the club will also provide an AFL pathway not only for Canberra footballers, but the "whole of southern NSW" - including the Riverina and South Coast.
He said it would also provide greater certainty for the AFL Canberra competition that sits below it.
The Demons have already signed former St Kilda player Nick Heyne, Cameron Bernasconi and Jordan Harper from Ainslie, along with former Adelaide Crows-listed Sam Martyn.
"We're keen to see everyone get on board from Canberra footy - young players, aspirational players, whether they're 14, 15, 18, 21, whatever. We want them to be aspiring to playing in this team," Mahar said on Friday.
"The team will engage with the community to make sure the clubs feel a part of it and it's not just Eastlake rebranding as Canberra Demons.
"It's to be seen as a Canberra rep team and we want to have really good representation from everyone - and the broader region, into the Riverina and that sort of thing.
"I think it will be a really good thing for Canberra footy. It's about dropping any baggage that exists around the respective clubs and coming together for the good of footy."
Mahar said the Demons had already started to engage with the other clubs, having trained with the Gungahlin Jets last year and Ainslie coach Chris Rourke has also been out to a Demons training session.
Discussions were ongoing between the Demons and the NEAFL with a licence extension to remain in the second-tier competition until the end of the 2019 expected to be finalised shortly.
"One team in the NEAFL competition, under the Canberra banner, complements the GWS Giants' long-term presence in the capital by providing a local team for the broader football community to support, and demonstrates a clear pathway for emerging stars in the region to continue to enter AFL ranks," Eastlake president Lorin Joyce said.
David Polkinghorne covers the Canberra Raiders, local rugby league, Canberra Cavalry, racing and cycling, along with every other sport, for The Canberra Times.