Canberra Olympic have slain the giant-killers.
A strike from goalkeeper and captain Angelo Konstantinou sent social media into overdrive as Canberra Olympic moved into the FFA Cup quarter-finals with a 2-0 victory over Redlands United.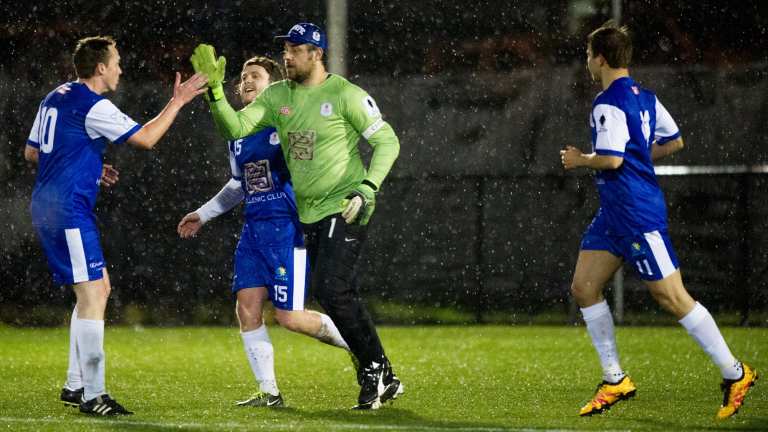 Futsalroos goalie Konstantinou's 15th-minute penalty was iced by a Robbie Cattanach goal in the dying moments to claim the spoils in torrential rain at Deakin Stadium on Wednesday night.
The Round of 16 win means Olympic are now a four-in-seven chance of drawing an A-League club to Canberra, while Redlands - who knocked out reigning A-League champions Adelaide United - bow out.
One of the remaining clubs is Tim Cahill's Melbourne City.
Canberra Olympic coach Frank Cachia was excited by the prospect of hosting Australia's most prolific scorer but said his side was under no illusions as to where they sat in the pecking order.
"Imagine that, how good would that be," Cachia said.
"[A-League clubs] are probably looking at it as a one in seven chance of drawing Canberra Olympic. If we do get an A-League side then so be it, I think it'd be a great reward for the players and great reward for the club and the supporters here in Canberra."
A challenge on Olympic's Robert Cattanach in the 15th minute brought a penalty before the sight of Konstantinou marching downfield drew rapturous applause from the 989-strong pro-Canberra crowd.
Konstantinou kicked truly down the middle to beat his opposite number Brendan White and give the hosts a 1-0 lead.
Olympic went into the break with a one-goal advantage, but it could easily have been three had White not denied striker Philippe Bernabo-Madrid twice.
It was end-to-end football in the dying minutes as a desperate Redlands threw everything at the home side in a bid to tie up the scores, before Cattanach was brought down in the box.
A diving White saved the shot before referee Katie Patterson called for a re-kick due to a defensive infringement, where Olympic put the result beyond doubt.
The win forms part of a whirlwind week for the club, who clinched top spot in the league last weekend before this week's grand final play-off.
"Every win that we get is just a massive reward," Cachia said.
"That's what it's going to be like for the rest of the season."
The quarter-final draw takes place at the completion of the remaining Round of 16 fixtures on Tuesday, August 30.
AT A GLANCE
FFA Cup Round of 16: CANBERRA OLYMPIC 2 (A Konstantinou 15', R Cattanach 93') bt REDLANDS UNITED 0
Caden Helmers is a sports reporter for The Canberra Times