A mouth-watering top of the table clash between Giants Netball and the Melbourne Vixens could be decided from an expected fierce battle inside the goal circle in Canberra on Sunday.
One of the competition's best defenders in Giants star goalkeeper Sam Poolman will come up against the league's most prolific shooter in Mwai Kumwenda.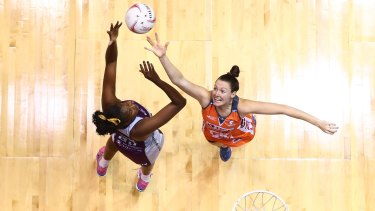 Malawi international Kumwenda has shot a dazzling 83 goals from 87 attempts in her past two hit-outs and will look to extend the Vixens lead at the top of the Super Netball ladder with another strong showing on Sunday.
Poolman has been a standout in the Giants inaugural season but is under no illusions of the task at hand against Kumwenda at the AIS.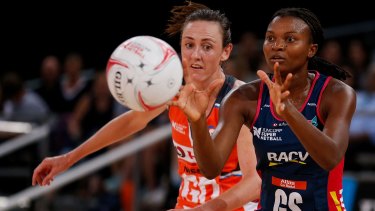 "She's in absolutely great form and it's not only her but the whole attack around her, so I have a big job ahead of me but it goes down to our defence working hard as a unit," Poolman said
"It's going to be a great game, they do their style of play so well and have all season and that's why they're at the top.
"I don't think they've had an off game yet but it goes both ways, if we're at our best on the day we can play some great netball and I'm expecting an exciting contest in Canberra."
The teams met in round six with the Vixens handing the Giants one of their two losses this season after a 59-51 victory.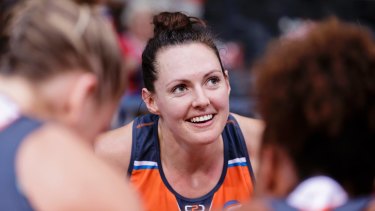 "That seems like a long time ago now, obviously we weren't happy with our performance and they did everything right, but I think we've built from that game," Poolman said.
"This is a big game for us and it's the perfect time to start doing the things we need to do well ahead of the finals, this is great opportunity for us.
"We need to work really hard as a defensive unit and give as much opportunity to our attack as we can because when we play consistent netball we do some great stuff, we just need to find that consistency for longer periods."
The Giants are gunning for an improved effort on Sunday after they limped home against bottom-placed Adelaide Thunderbirds last week in a match goal shooter Susan Pettitt described as their worst performance of the season.
"We're just trying to get forget about it to be honest because we know we can play a lot better, so for us it's letting that one go and focusing on the Vixens," Pettitt said.
"Last time against them we were up for the first three quarters and let it slip in that last quarter, they don't give much ball away so when we do get the ball we'll need to treasure it.
"I really rate the way they play simple and effective netball, they work hard for each other and it's nice to watch, but I know our team can do that as well.
"We just haven't hit that mark with consistency in our game yet but we're hoping this week is the week, especially leading into finals."
The Giants have a tough road home against top-five sides the Vixens, Queensland Firebirds and Sunshine Coast Lightning, and will need to win at least two of those clashes to secure a home semi-final.
Eamonn Tiernan is a sports reporter with The Canberra Times