Having achieved unrivalled success over his 15 consecutive years of competitive bodybuilding, Harry Haureliuk is set have another crack at the sport he had left behind.
Thirty years ago Haureliuk decided to give up powerlifting in the attempt to focus on his ambitions in bodybuilding.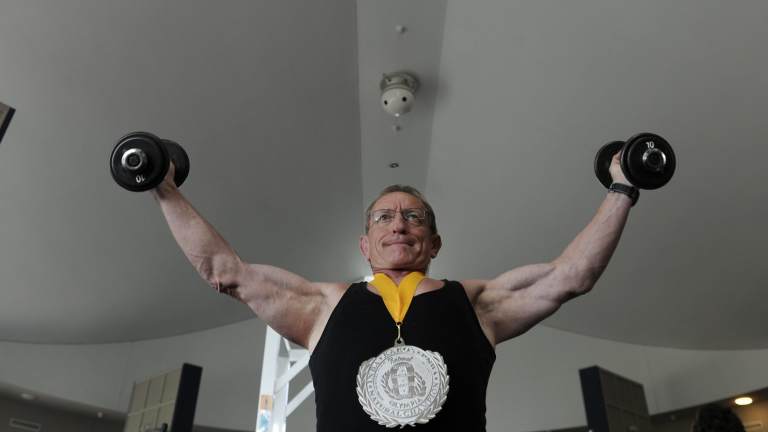 Over the course of his illustrious career Haureliuk won nearly all there was to win while achieving the goals that had taken him away from powerlifting.
"After 15 straight years of competing in bodybuildingI'd achieved what I'd wanted," Haureliuk said.
"I won six Mr Olympias, four Mr Universes and two Mr World titles in the space of 15 years from 1999 to 2013."
Most 69-year-olds would be content retiring after such an illustrious career, but Haureliuk is in the midst of a new adventure as he tries to prove that age is just a number.
Haureliuk left bodybuilding in 2013 after being invited to get involved with powerlifting by his old "apprentice", Brett Kirchner.
"Brett said to get involved again [in powerlifting] so I decided I would. Then I went up to Sydney and qualified in March," he said.
Haureliuk admits it has been a reversal of roles since his return to powerlifting with Brett Kirchner becoming the master while Haureliuk continues to readjust.
"Thirty years ago I Introduced Brett Kirchner to powerlifting and now some 30 years later he's actually been helping me with some of the finer points."
Despite omaking the switch a mere eight months ago, Haureliuk and Kirchner have set their sights high.
"I've only been doing this now for the last probably eight months since I've been making a comeback," Haureliuk said.
"I hope to break the Australian record squat record and to win the Australian masters title, so we'll see what happens. lI don't know who the competitors are … we've just got to go with the flow and see what happens at the outcome, whilst Brett is aiming to break the bench press record."
Haureliuk will travel to Melbourne with fellow competitors Kirchner and Paul House to compete in the Australian masters powerlifting championships