It was heartbreak again for Canberra Brave after they lost their second straight Australian Ice Hockey League grand final in Melbourne on Sunday.
The Brave hung tough against minor premier Melbourne Ice but were broken open in the final period as the home side clinched the Goodall Cup with a 4-1 victory.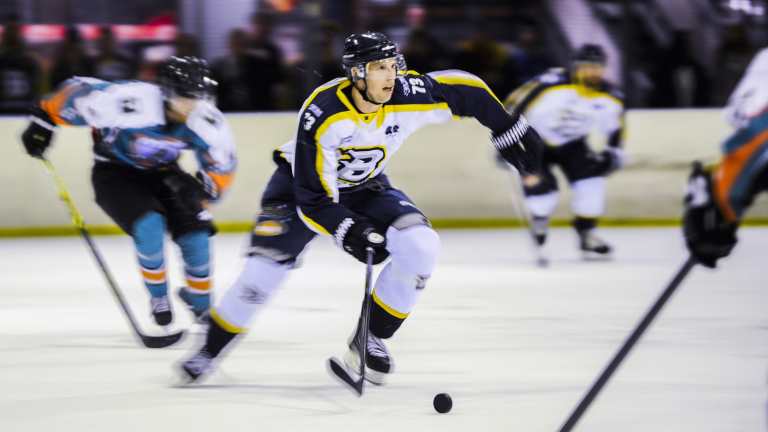 Brave captain Jordie Gavin was emotional speaking after his second grand final loss in as many years.
"This sucks. I'm super proud of our boys, what a group, what a year, we had our ups and downs to get here again and I can't say how proud I am of these guys," Gavin said.
"Some guys aren't coming back, some guys are, you live and learn and we'll get better next year, but congratulations to Melbourne Ice they were great all season."
Brave coach Robert Starke said it was a tough loss but there were still plenty of positives to take from his first season at the helm.
"It's never easy losing the big one, especially two years in a row, but the guys can look in the mirror and say they've gave it their all and that's all we can really ask of them," Starke said.
"I'm extremely proud of the guys, we battled hard and played a good game but Melbourne Ice have some great depth and talent and full credit to them for being the better side on the night.
"This season has been a great journey, obviously we've had a lot of success and it's just a matter of continuing to build on that and keep going in right direction."
The game marked the end for Brave foundation player Stephen Blunden who is heading home to Canada, while Starke said his side will come back bigger and better next season.
"To make the finals weekend and grand final game is a tremendous accomplishment, it's a great organisation and fan base and we look forward to building it further," Starke said.
"At the end of the day it would be great to get back here on the big stage next season and see if we can get the job done, that's the intention."
Eamonn Tiernan is a sports reporter with The Canberra Times