Australian and Canberra United defender Emma Checker can't take a trick.
After working her way back into the Matildas squad following a knee reconstruction the centre back was struck down again with an ankle injury earlier this month.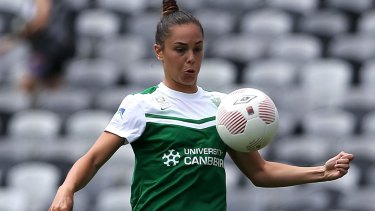 Canberra United bowed out in the W-League semi finals in February before Checker flew to Portugal on international duties for the Algararve Cup.
Checker didn't add to her three Australian appearances in Europe but the 21-year-old said the experience of a Matildas tour is invaluable.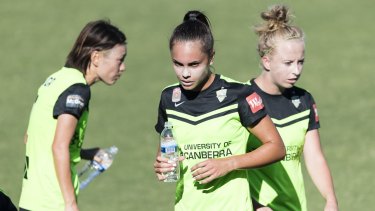 "At the end of the day it's always an amazing experience, you're training with the best every day, are coached by the best and you just try and learn as much as possible," Checker said.
One those coaches is Matildas assistant and newly appointed Canberra United mentor Heather Garriock who is expected to re-sign Checker next season.
"I grew up watching the Matildas and Heather was one of the key players and I have no doubt she can transition that knowledge into W-League coaching," Checker said.
"The exciting thing is she has such a successful playing career behind so she has the knowledge and understanding of exactly what the players need.
"She's earned plenty of respect throughout her career and how she presented herself as a player and she's now taken her coaching another step forward and has another area to prove a point.
"I'm still gauging her coaching style and expectations but it's going to be a good challenge for her moving up into the W-League."
Checker has signed with Korean club Incheon Red Angels in the W-League off season but is back home in Adelaide for three weeks of rehab with the Matildas medical staff on her injured ankle.
"When I did it I was really disappointed and pretty upset but I took a moment and knew if I could get through 12 months of rehab then anything less than that I was capable of doing," Checker said.
"It took me a little while to get re-motivated but now I'm back on track and the plan is to be back playing in the next three months but I'm not going to push it."
Checker will return to Australia after the Korean season finishes in November with the young gun confirming she'll be back for a seventh W-League season.
"Korea is really cool, it's totally new experience and culturally very different but football-wise it's unreal and I'm constantly learning and improving," Checker said.
"I'm definitely coming back for the W-league season, I'll will miss preseason but hopefully not too many games.
"I've had two really enjoyable seasons in Canberra and the club has looked after me really well, I haven't made a definite decision yet and I need to see what the best option is moving forward but hopefully I can stick around."
Eamonn Tiernan is a sports reporter with The Canberra Times