It was a bittersweet Canberra grand prix meet for Olympian Michelle Jenneke who returned to form but just missed out on a world championships qualifier.
The 23-year-old YouTube sensation clocked her fifth fastest 100m hurdles ever to win in 12.99 seconds, but finished one-hundredth of second outside of world qualifiers.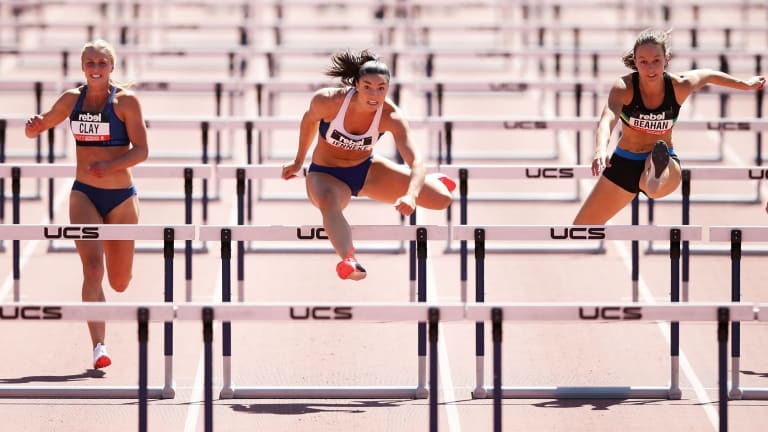 It marks Jenneke's first sub-13-second dash since nationals last year as she bounces back from a disappointing Rio Olympics campaign ahead of nationals in Sydney at the end of March.
"It was really good to be back under that 13-second barrier. Everything I've been doing recently has been building up to this," Jenneke said.
"I've been running through a very heavy training block because I like the race experience, but now I'm starting to freshen up a bit and I believe I'll be better for the nationals.
"I'm not sure if I will be in personal best shape for the Australian championships, but I do think I will be for world championships. That's when it matters."
Rio revelation Ella Nelson qualified for the worlds in London in the 200m after running 23 seconds flat, the fastest time by an Australian this year.
It was Nelson's first race since the Olympics and puts her in the box seat for green and gold selection if she can repeat the performance at nationals.
"I was so nervous. My two biggest fears are flying and opening up my season and I've done both this week after coming back from the States," Nelson said.
"The first race is always the unknown. You don't know what's going to happen, you've put in a lot of work and you just hope. I really wanted a little bit quicker, but I'm not getting caught up in that."
Rio 1500m bronze medallist Michael Roeger clinched his second world record on Saturday after winning the 5000m T46 in a blistering time of 14 minutes 14 seconds.
"I was going for the record and knew I was in sub 14:20 shape after some big training kilometres, but to execute it is another thing and it feels great," Roeger said.
"It's uncharted waters so you never know but it was a perfect Saturday night in Canberra, I got on the train and got pulled along and everything went to plan.
"The 5km is a different sort of pain. I was on the red line for a lot longer and the last 2km was tough, but it gives me confidence leading into nationals and hopefully I can qualify for London.
"I couldn't do it without my coach Philo Saunders, he's a legend and an amazing athlete himself, so I put it down to him and being two years injury-free."
Eamonn Tiernan is a sports reporter with The Canberra Times