When Mikaela Ruef was earning her Masters degree in engineering at Stanford University, she started a coffee club with her teammates, but it wasn't the world's best barista who drew her to Canberra.
The Capitals will be the third WNBL team the 191cm forward has played with in three years. "Maybe this one I'll stick with," she joked.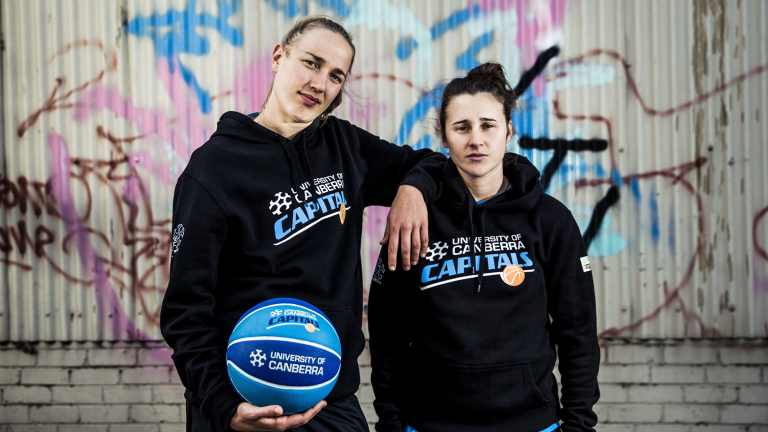 Ruef said she liked "coming into new teams with new players". "I think I'm good at it," she said.
As new coach Paul Goriss compiles the other pieces of "the puzzle" of a new group, Ruef is guaranteed at least one familiar player in Lauren Mansfield, her current teammate and point guard with SEABL side the Launceston Tornadoes.
"It could be [a tough start] maybe at first to figure out how to mesh with the players, but I've played with Lauren, I know how she plays and what she likes to do with screens and things like that, so it will hopefully be a quick transition," Ruef said.
Mansfield was a key signing for Goriss. The 26-year-old took her opportunity last WNBL season at the South East Queensland Stars, stepping into the huge space left when WNBA star Erin Phillips was ruled out with injury.
"Early on I targeted Lauren as a potential recruit," Goriss said.
"[Her] leadership and basketball IQ is outstanding and that's something I've thought from day one. Her ability to lead a team, but also to be able to score is an outstanding attribute of hers."
Mansfield's season was rewarded with a call-up into the Opals squad this year. She was injured for the camp, all but ruling her out for Rio contention, but she's looking forward to continuing her development under Goriss in Canberra.
"[He] talked to me about what he saw in my game and talked about being able to help me to develop my game and really improve, so that was really what drew me in," she said.
"I'm excited to play with Mikaela again, I think we work well together and I've played with Abbey Wehrung as well."
So far Goriss has just four players on his roster, the two new recruits joining Wehrung and Alice Coddington, who are still on contract. Negotiations with Opals stars Steph Talbot and Marianna Tolo are continuing, with hints of more stars to come.
"Hopefully in the coming weeks we'll have some more signatures. Some players with some good pedigree, let's put it that way," Goriss said.
He expects his new recruits to assemble in Canberra after the Olympic Games for a four to six-week pre-season.
It will be plenty of time for Ruef to start a new coffee club, which she started when playing on scholarship at Stanford to get out and see all the cities her team visited.
"I really love Australian coffee and when I go back home and visit my family, I say 'this is terrible, I need to find something better'. So I've been spoiled with the coffee out here, it's delicious," she said.
Fleta Page is a journalist at the Sydney Morning Herald. She was previously a sports and general news reporter at The Canberra Times.