She's the only woman to have stood on the podium in every event of an Australian Rally Championships, and she's back in Canberra to carry on her 2015 efforts at the National Capital Rally.
In 2015, Molly Taylor also became the first woman to win a round at the event, and she has begun her return to the ACT sitting in fifth position on the ARC leader after the first day of the Canberra event.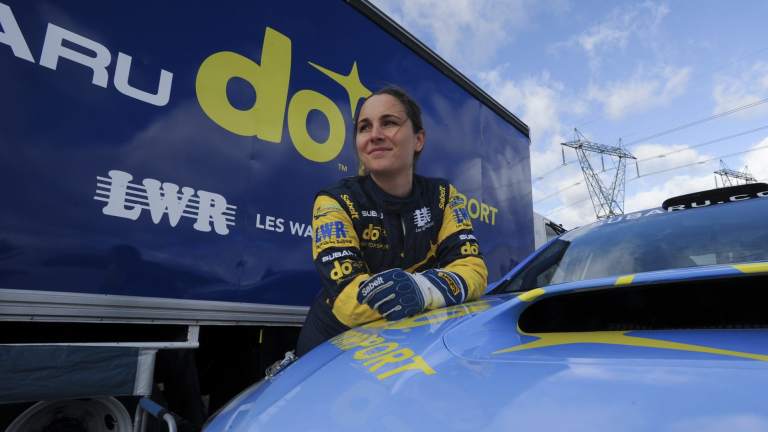 Taylor didn't have a desirable start to the National Capital Rally, due to a broken differential in her car. The vehicle was repaired immediately after the incident and is already fit for day two of racing.
Simon Evans from Victoria finished day one of the event on top, leading at each stage. He was followed by fellow Victorian Brendan Reeves, who raced without a first or second gear, in second place. His vehicle will have maintenance and begin day two with a new gearbox.
Canberra's Adrian Coppin was forced to retire after seven stages due to low oil pressure, which event organisers say shouldn't keep him out of day two of racing.
Canberra's Harry Baites, son of racing legend Neal, got off to a great start, before rolling his vehicle 16 kilometres into stage four put him 20 minutes behind. No one was hurt in the incident.
After a serious crash in the VIP hotlaps at the opening of the event on Friday, Craig Brooks was somehow eligible to start on day one, but his car caught fire at stage four which temporarily closed down that portion of the track.
Headlining the competitors at the Canberra round of the rally, Taylor is looking to make 2016 her biggest year yet after winning the Peter Brock Medal in February.
She finished the 2015 Australian Championships in second place, but is determined to go one better in the 2016 ARC.
"I'm really fond if this track obviously having my first ARC win here last year. Canberra is a really tricky rally, so you never know what to expect," Taylor said.
"Getting back in the car at any event is exciting, but Canberra especially with its two different forests, we almost see it as two rallies in one. It was pretty surreal to win the Peter Brock Medal, it was something that came quite unexpectedly. I was very humbled obviously and it's an honour to win it, and I think to be recognised like that means a lot. All I can try and do now is live up to what it represents."
Taylor isn't looking too far ahead at the moment, trying to improve her own performance at each event, especially in the new position she's in.
"This is my first year with Subaru team and my first year in a factory driver position which is an incredible opportunity for me, my focus is to learn and improve with each event and we are just trying to do our best job inside the car and if we can do that the future will take care of itself," Taylor said.
It's the biggest weekend on the Canberra Rally Calendar, where the relentless forest tracks showcase Australia's finest drivers, which is unique in a number of ways.
The National Capital Rally being held over two days, flaunts two completely different styles of track.
On Saturday the drivers race through a gravel-based track at Kowen Pine Forest known for its plethora of straights and square corners, and is generally the faster of the two tracks.
On Sunday the track near Mount Stromlo on Paddy's River road is known for its short, sharp angles and is likely to see a change in the leader board as the conditions will favour local racers who know the difficult track well.
NATIONAL CAPITAL RALLY
Sunday: Racing from 10am-4pm. Best viewing points at Cottage 5 Paddy's River Road and 5 Ways Paddy River's Road. Podium presentation at Service Park, Brisbane Avenue, 4pm.