Fifty years after it all began, Monaro Panthers FC founding members Mirco Pavan and Mario Donda jnr were back at the Royal Hotel Queanbeyan, reminiscing on old times.
The pair were part of a group of Italian migrants who met regularly at the Queanbeyan pub and one decided to form a team and join the local competition.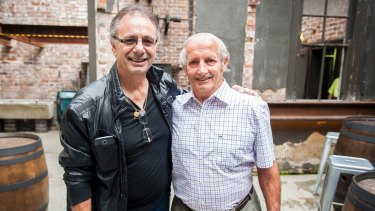 The first order of business was a name as Donda recalled: "We couldn't get an agreement so I suggested that since we are in the electorate of Eden Monaro, why not call it Monaro."
In the Panthers first season they went undefeated in the second division against a league of established teams.
"We were playing against teams from the Police Force, the RAAF, Army, R.M.C. Kosciosko and Braddon, there was even a side from the Bureau of Statistics," Donda, 71, said.
At the end of the season Monaro faced off against top flight winners and Italian rivals Juventus in the Federation Cup.
Pavan, 76, remembers the clash well: "Before the game they kept saying they were going to beat us 10-0. We hadn't lost a game all season and we won 2-0 that."
Monaro went from strength to strength, entering the NSW State League in 1978 and winning it twice and in 1984 were promoted to the National League.
However, financial turmoil saw the club fold at the beginning of the 1990s, before John Santolin re-formed the Panthers in 1995 four years later the club won its most recent division one title.
Donda's father was the Panthers first coach who Donda said would hardly be able to believe the club was still going strong half a century on.
"My dad was a soccer fanatic and when they asked him to coach he agreed pretty quickly and got us sorted as a team," Donda said.
"I'm proud to say that for Monaro we were never about politics, we where about football, the beauty of playing the game and winning and we have always had an open door for anybody."
Monaro will celebrate its 50th anniversary on Sunday but Donda said the family-friendly culture at clubs these days was not always the case.
"Football in those days was very volatile and people brought their rivalries from the old country onto the playing fields," Donda said.
"I remember one year there were two Spanish teams – one supported Franco and the other the Republicans. We were playing at Woden in a double header and they were on first.
"There was a riot with the crowd joining in. One team got kicked out of the competition and the other was heavily penalised."
Donda isn't heavily involved in the club these days but his heart still bleeds green and balck.
"Whenever I hear the name 'Monaro' my heart skips a beat," he said.
Monaro Panthers 50th anniversary celebrations and Gala Day will take place on Sunday at the NPL Capital Football season opener against the reigning premiers Olympic at Riverside Stadium.
CAPITAL FOOTBALL PREMIER LEAGUE ROUND ONE
Saturday: Centre of Excellence v Woden Weston at AIS Grass Fields, 3pm; Canberra FC v Riverina Rhinos at Deakin Stadium, 3pm; Belconnen United v Gungahlin United at McKellar Park, 5:30pm.
Sunday: Monaro Panthers v Canberra Olympic at Riverside Stadium, 2:10pm; Cooma Tigers v Tuggeranong United at Nijong Oval, 3pm
Eamonn Tiernan is a sports reporter with The Canberra Times