Rebecca McConnell admits her confidence has been suffering but she is beginning to feel fitter, faster and stronger ahead of the Commonwealth Games.
It is a huge boost for the Canberra mountain bike star with a trip to the Gold Coast for one of the biggest events of her career on the horizon.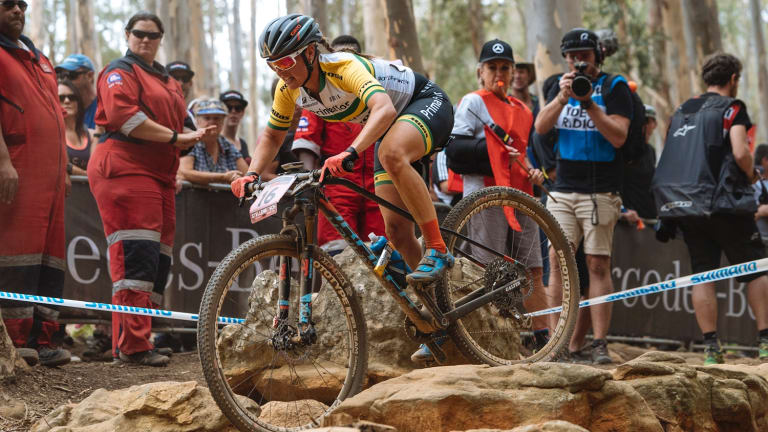 McConnell finished first in the elite women category at the Mountain Bike Australia national cross country series at Mt Stromlo on Saturday in one of her final warm-up events before she heads to the Gold Coast.
The 26-year-old finished in 1:12:08 to clinch top spot, well clear of second-placed Holly Harris and Samara Sheppard, as she prepares to better the bronze medal she won in Glasgow four years ago.
"That was good, another race that went better than expected, that's for sure," McConnell said.
"My confidence has definitely been suffering and form has obviously been a bit slow to take this year. I definitely feel like we're getting there and with a couple more weeks hopefully we can fine tune it a bit more.
"It's always good to have a race at home where people can come out and support us and see what we do... it's really cool to have a race at Stromlo."
McConnell has been on trips to Spain, New Zealand and South Africa to launch her Commonwealth Games preparations and admits she felt fresh and came in with "no expectations".
It paid off as she returned to the winner's circle in a massive turnaround after a hectic schedule took its toll and drained her love of cycling in recent months.
Cameron Ivory cruised to victory in the men's elite category, finishing in 1:33:08 ahead of Ben Bradley and Callum Carson.
The Canberra Off Road Cyclists-run national cross country series continues in Canberra on Sunday but McConnell's husband Dan McConnell has withdrawn to give his body more time to recover for the Commonwealth Games.
Caden Helmers is a sports reporter for The Canberra Times