The majority of his Brumbies teammates are putting their feet up during their bye week, but there's nowhere hooker Robbie Abel would rather be than on the field with his family playing for Easts.
After spending the past decade with Royals, Abel will take on his former club in Saturday's John I Dent Cup round-two clash at Griffith Oval.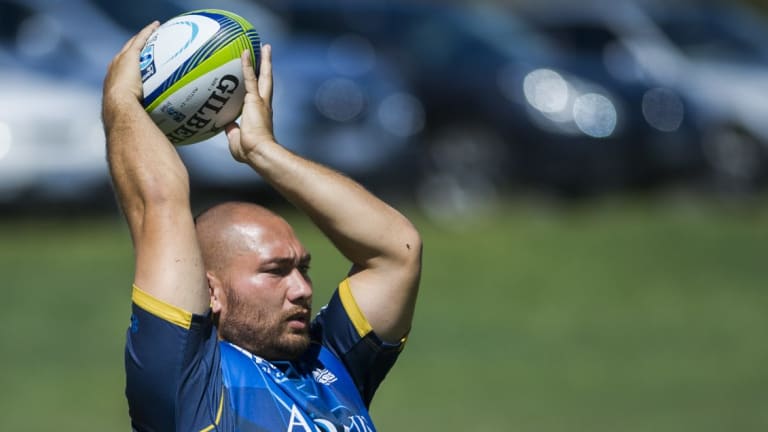 Abel's five brothers and four cousins made the switch to Easts this season to boost the numbers of a club that has been at the bottom of the competition in recent years.
Brumbies coach Stephen Larkham has allowed his players to get away from Canberra this week in the midst of a hectic Super Rugby season.
"We kind of got told to go away and freshen up, but for me, being with my family is how I get to freshen up and get my mind right," Abel said.
"It keeps me in love with the game.
"For me, it's a massive opportunity and a time I'm able to love my footy."
Abel will have three of his brothers - AJ, Charles and Jacob - as well as cousin Kealii in the first-grade team for Easts.
He also has four more cousins and another brother, Simon, playing in the lower grades.
"Our family had been at Royals for the last 10 years, but we just had the opportunity to play together and to help a club that was struggling for the last few years," Abel said.
"There were a lot of things they were lacking in terms of players and that's exactly what we have, is a lot of people.
"It hasn't come without its challenges.
"When we first came across, there wasn't a whole lot of numbers and maybe the enthusiasm wasn't what we were used to coming into other clubs or from years past when we had been at Royals
"Having my brothers and my cousins at the club, I'm loving it."
Abel is one of five Brumbies-contracted players playing in the John I Dent Cup this weekend - Lausii Taliauli and Albert Anae will line-up for Royals, Michael Dowsett is with Uni-Norths and James Dargaville is with Gungahlin.
All five have had limited game time for the Brumbies this season.
Abel made his Super Rugby debut against the Cheetahs in South Africa as a replacement for the suspended Josh Mann-Rea.
The Brumbies have had the distraction of boardroom dramas off the field and are coming off a 48-23 loss to the Chiefs at Canberra Stadium last weekend.
The road doesn't get any easier with two big games against the NSW Waratahs and the Canterbury Crusaders coming up.
"We have a squad of capable of winning the competition," Abel said.
"That's not a wishy-washy goal and not just thrown out there, that's something that's believed within our squad and the rugby community."
JOHN I DENT CUP ROUND 2
Saturday: Easts v Royals at Griffith Oval. Gungahlin v Queanbeyan at Nicholls Enclosed. Uni-Norths v Wests at ANU North Oval. All games at 3.05pm.
Lee Gaskin is a sports reporter at The Canberra Times.