Thirteen operations in six years stalled his Major League career. Ryan Kalish has every right to be bitter. But instead the former Chicago Cubs outfielder is thankful.
Thankful for the opportunity to relaunch his career with the Canberra Cavalry in the Australian Baseball League.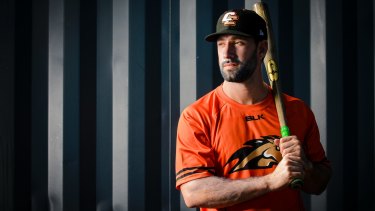 Thankful for the donor who's femur now helps make up his reconstructed knee.
Thankful that while in a baseball sense he hasn't been healthy - in a real sense he still is.
But he admits a younger version of the 29-year-old wasn't always in such a mentally healthy place.
Life seemed good as a 22-year-old when he broke into the Boston Red Sox line-up in 2010 before an attempted catch wrecked his shoulder and started him on an injury plagued career.
He's managed 153 MLB games over seven years, the last 64 with the Cubs, but is now a free agent.
Kalish's looking to relaunch his MLB career and that starts when the Cavalry face the Brisbane Bandits in Brisbane for the start of a four-game series on Thursday.
"It seems every time I get healthy and I do my thing long enough I play in the big leagues, so I'm ready to try and make that happen again, obviously starting here," Kalish said.
"Shoot, I'm in Australia right now, it's pretty awesome. I'm happy about everything, I'm playing baseball, I'm going to see a new country and it's good."
Originally, he'd planned to play in the Puerto Rico winter league, but when Hurricane Maria washed that out it left him looking further afield for game time.
He'll take a spot in the Cavalry outfield and was expected to provide a powerful bat in the middle of the line-up.
Kalish was coming back from an unusual surgery on his knee, where a bone was taken from a donor to help fix bone bruising 14 months ago.
"I had this surgery they call oats and osteotomy, that's when you go on a donor list and somebody around your age that fits your type has to die and they take out this piece of femur bone and they replace it with theirs," he said.
"They also break your tibia and re-align it so it's all even and you're taking all this weight off your knee.
"I don't know who they are ... but I'm so thankful to be out here, thankful for that and thankful for another chance."
Cavalry coach Michael Collins will allow Kalish to ease his way into the fold and won't place any initial expectations on him.
He said his starting pitchers would be Brian Grening, Lake Bachar, Steven Kent and Frank Gailey.
Collins was excited about the prospect of Cam Warner making his Cavalry debut, after the Detroit Tigers drafted the Canberra-born infielder this year.
Previously, Warner played college baseball and was part of the College World Series with Texas Christian University.
"I do think the Cam Warner one is very exciting, the more I think about it," Collins said.
"He went off to college four years ago, hasn't been back and played or been around Canberra baseball in those four years.
"He's competed on a very big stage, played in a very big college program, went on to the draft and played some professional baseball this summer."
ABL ROUND ONE
Thursday: Canberra Cavalry v Brisbane Bandits at Brisbane, 7.30pm.
Canberra roster - pitchers: Lake Bachar, Michael Click, Frank Gailey, Brian Grening, Sean Guinard, Thomas Holland, Stephen Janas, Steven Kent, Daniel Lietz, Grant Piccoli, Tyler Herr. Catcher: Robbie Perkins. Outfielders: Jacob Amos, Ryan Kalish, David Kandilas, Connor Panas, Kyle Perkins, Buddy Reed. Infielders: Gabriel Arias, Casey McElroy, Boss Moanaroa, Cam Warner.
David Polkinghorne covers the Canberra Raiders, local rugby league, Canberra Cavalry, racing and cycling, along with every other sport, for The Canberra Times.